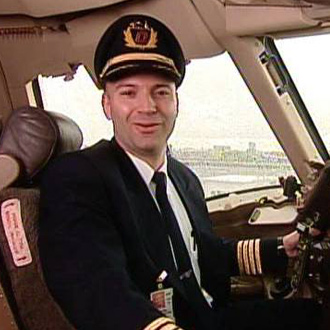 When Ross Dennerstein suddenly and unexplainably died at home aged just 47, his family was left devastated.

The family of the late Jetstar captain Ross Dennerstein has set up The Ross Dennerstein Foundation to honour his memory and help fund research into the causes and prevention of unexplained cardiac deaths in young people.
The Ross Dennerstein Foundation, partnering with the Baker Institute, will establish an Australian registry of unexplained cardiac deaths as the first step to understanding this devastating condition.
<50
unexplained cardiac death is the third most common causes of death in those aged under 50.

1000
unexplained cardiac arrests kill 1000 Australians every year who show no symptoms of heart disease.

5x
young men are 5 times more likely to die of unexplained cardiac death than young women.
Captain Ross Dennerstein was a fit and active family man who was regularly put through the medical tests that all commercial airline pilots are required to undertake — so when he suddenly and unexplainably died at home aged just 47, his family was left devastated.
His mother, psychiatrist Lorraine Dennerstein, said Ross was born to fly; he took his first flight in a single engine, two-seat Piper Colt when he was barely four weeks old.
Ross became the youngest pilot ever recruited by Australian Airlines-Qantas. He was a First Officer at 21, and went on to become a Captain at 28, one of the youngest ever. He flew for Qantas for 16 years. Senior colleagues recall that he was 'the complete aviation enthusiast'.
'He was extraordinary, and I'm not just saying that because I'm his mum. He did such a lot in his relatively short life. In terms of aviation, he contributed enormously and was singularly responsible for paving the way for night flying into Queenstown in New Zealand,' said Professor Dennerstein.
Ross sent a photo to his mother while flying over Queenstown, New Zealand with the caption, 'It doesn't get better than this'.
---
People who are fit and lead a very healthy lifestyle are not guaranteed protection from unexplained cardiac death, and the community loses young people in the peak of their productive years.
There has been scarce funding of research into unexplained cardiac death and consequently the causes and guidelines to prevent it have not been established.
In the face of such personal tragedy, Ross' family has set up The Ross Dennerstein Foundation to help fund research into causes and prevention of unexplained cardiac death. Ross was always concerned for the health of others and would want to prevent others suffering from unexplained cardiac deaths.
On behalf of the family, we thank you for your generous donation today that will help advance important research into unexplained cardiac arrest at the Baker Institute.