07 November 2020
Institute news
Australian researchers have demonstrated how a single injection of a blood derived protein, Apolipoprotein A-I (ApoA-I, human), could provide a powerful anti-inflammatory treatment for improving the heart recovery after a heart attack.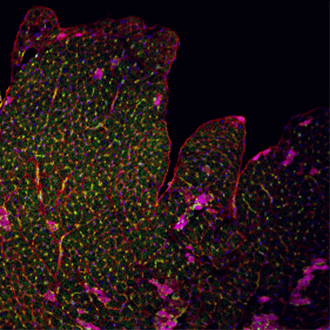 In this pre-clinical study, researchers from the Baker Heart and Diabetes Institute showed that an intravenous injection of ApoA-I (human), the main active component of HDL, immediately after a heart attack lowered the deleterious inflammatory response and was associated with reduced injury to the heart.
Excessive and overactive inflammation has been shown to contribute to adverse changes in the heart leading to heart failure. Modulating inflammation has been the holy grail for many researchers looking to protect the heart and prevent further complications such as heart failure.
However, clinical translation of these findings remain challenging and there is still no treatment available to protect the heart from inflammation after a heart attack.
These important mechanistic insights, published in Circulation Research, build on previous work which has shown that this therapy also stimulates the energy production of heart cells improving their survival, reducing damage to the heart and improving heart function.
Lead researcher, Dr Adele Richart says one of the difficulties has been getting to the heart in a timely way, with other treatments on the market administered weeks after an event. In this study, Dr Richart says targeting the heart immediately after injury from a heart attack is crucial for cardiac tissue healing, with this therapy demonstrating a rapid response on multiple mechanisms including inflammation. She says the applicability of this therapy is also very practical, as this treatment could be given to patients while receiving clinical treatment to stop the heart attack.
Currently when a person having a heart attack presents to hospital they are taken to a cardiac catheter laboratory, and along with other treatments, their coronary arteries are opened with a balloon angioplasty procedure. This provides a perfect window of opportunity to deliver a drug like ApoA-1, says Dr Richart.
A similar human plasma derived ApoA-I product from CSL is currently in a multi-center, global, phase III randomized clinical trial in approximately 17,400 patients to evaluate efficacy and safety compared to placebo in reducing the risk of major adverse cardiovascular events (MACE) in patients following a heart attack.
"Our work provides further evidence that this anti-inflammatory therapeutic approach could be beneficial to people who have suffered a heart attack by improving the damaged heart and reducing the risk of further heart events," Dr Richart says.
Coronary heart disease, which includes heart attacks, is the leading cause of death in Australia.
Stay on top of the latest findings with our newsletter
Subscribe