IDOL, or Inducible Degrader of the LDL receptor, is a recently identified E3 ligase. It acts in a 'substrate recognition' capacity to identify and ubiquitinate its targets in preparation for their degradation. IDOL has three targets, the LDL receptor (LDLR), the VLDL receptor (VLDLR) and the apoE receptor (ApoER2), which are involved in the uptake of lipids. We have previously shown that IDOL is important for the regulation of plasma cholesterol levels in humans.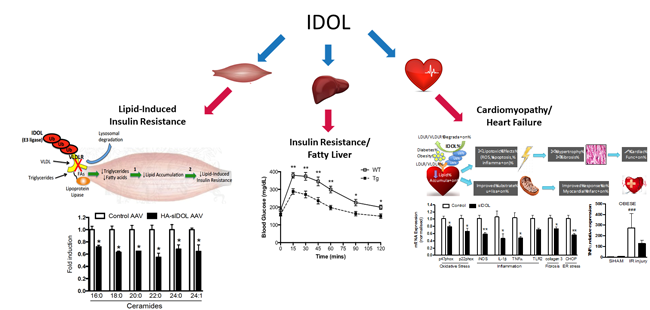 Ongoing work in our laboratory will examine whether IDOL can reduce the accumulation of lipids in peripheral tissues and whether this is associated with metabolic protection. We have preliminary data demonstrating that IDOL can attenuate the accumulation of the ceramide species in skeletal muscle in vivo, and further studies will examine the role of IDOL to protect against skeletal muscle lipid-induced insulin resistance. We also have preliminary data demonstrating a cardioprotective role for IDOL in the setting of diabetes and obesity-associated cardiomyopathy and cardiac ischaemia-reperfusion injury. Further studies will examine the mechanisms underlying this protection.
Finally, we are investigating the protection against glucose intolerance observed in liver-specific IDOL transgenic mice.