Our group aims to identify novel regulators of lipid metabolism that have the potential to be targeted for therapeutic intervention. In collaboration with the Molecular Metabolism and Aging Laboratory at the Baker Institute, we have utilised our ties with collaborators at the University of California, Los Angeles (UCLA) to access a specialised discovery platform called the Hybrid Mouse Diversity Panel (HMDP). The HMDP is designed to associate genetic variability with phenotypes of interest across 100+ strains of mice. Previous studies using this approach have focused on the DNA level to identify novel regulators. However, we have taken the unique approach to perform discovery studies at the protein level in collaboration with one of Australia's leading proteomics experts. We have combined state-of-the-art analyses of HMDP liver proteins with cutting-edge measurement of liver and blood lipids here at the Baker Institute. To our knowledge, by using this combined approach we have generated the largest discovery platform of its kind in the world, maximising our opportunity to identify novel regulators of lipid metabolism.
We have a particular focus on identifying:
novel regulators of cholesterol metabolism and its implications for cardiovascular disease
novel regulators of DAG/TAG metabolism and its implications for steatosis and diabetes
novel biomarkers of hepatic steatosis, fibrosis and inflammation.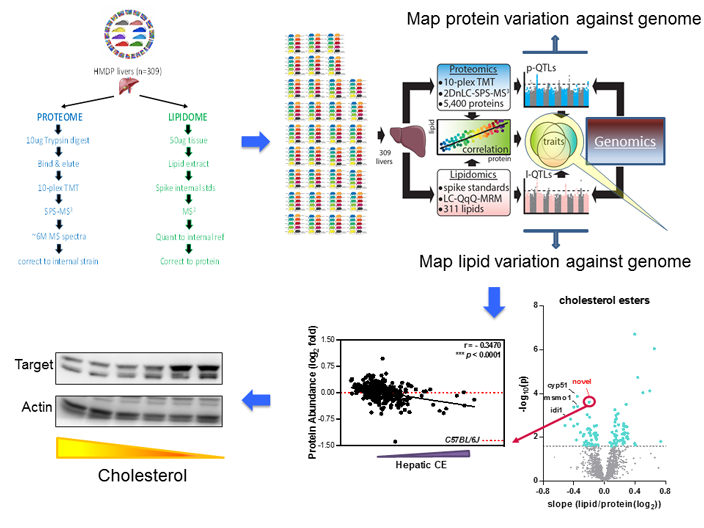 Subsequent studies include in vitro validation of novel targets in human hepatic cells followed by in vivo testing in an acute and chronic setting to assess effects on lipid metabolism as well as disease outcomes. Findings are also validated in human samples and cohorts including the San Antonio Family Heart Study.