Dr Adèle Richart
PhD, University Paris-Descartes | Masters(Hons), University Paris-Diderot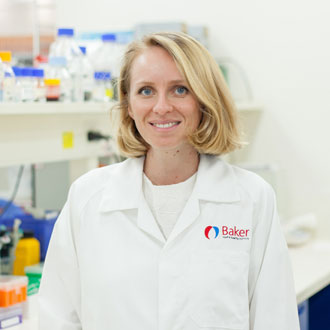 Dr Adele Richart completed her Masters (Hons) in 2009 at the University Paris-Diderot (France) and her PhD in the Department of Biology and Pharmacology of Blood Vessels in 2013 at University Paris-Descartes (France). Her major research work, funded by a competitive national scholarship, examined the role of progenitor cells in remodelling and post-ischemic neovascularisation in peripheral artery disease and myocardial infarction.
In 2014, Dr Richart was awarded a very competitive French fellowship to move to Baker Heart and Diabetes Institute, to join Professor Bronwyn Kingwell's highly successful research program in the Metabolic and Vascular Physiology Laboratory. Her current research aims to support cardiac recovery and prevent progression to heart failure after an acute coronary syndrome. Her work demonstrates that high-density lipoprotein (HDL, 'good cholesterol') given just after a myocardial infarction improves the functional recovery of the heart by limiting the deleterious inflammatory response and development of fibrosis. These data support the use of infusible HDL preparations for management of acute coronary syndromes in the setting of primary percutaneous interventions.
Even at her early career stage, Dr Richart is developing a distinguished track record including high impact publications in Circulation, Stem Cells, Journal of Experimental Medicine and Arteriosclerosis, Thrombosis, and Vascular Biology.