15 July 2022
Institute news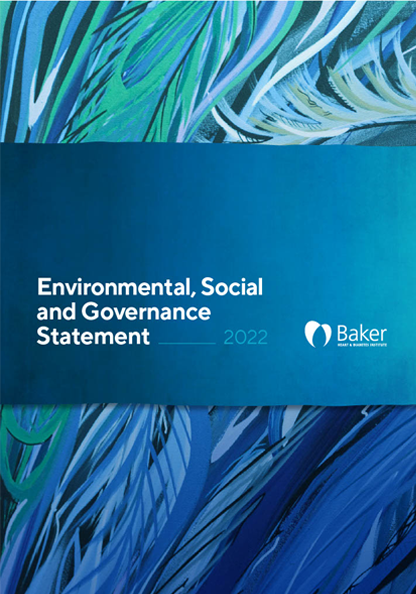 As a not-for-profit medical research organisation established in 1926 to support all Australians to live healthier for longer, we are firmly committed to equity, diversity and supporting healthy communities.
The core values of equity and diversity underpin our work with the high-risk communities where we operate and aim to drive change.
To formalise our commitment to these values, we have developed an Environmental, Social and Governance (ESG) Statement for 2022.
The commitment to these values includes examining how we operate and how our decisions impact others. It includes analysing our practices, ensuring that we are a socially responsible organisation and supporting advocacy efforts to develop equitable and healthy communities, in line with the expectations of our staff, students, board, supporters and the community.
Baker Institute Director, Professor Tom Marwick says the Institute's first ESG Statement reinforces our commitment to ensuring greater transparency and accountability to our staff, our stakeholders, and the community.
"It opens the door for more important conversations about critical issues such as increasing the need for diverse representation amongst our leadership team, in our study cohorts and in our community engagement," Professor Marwick says. "We also acknowledge our journey to ensure visibility and inclusion for people who identify as LGBTIQ+ is just beginning. "And we want to harness the expertise and passion of our staff to drive greater environmental sustainability initiatives.
"This isn't just the right thing to do, importantly, it enhances our research and our organisation so that we can deliver even greater health outcomes to the community," Professor Marwick says. "We want the best scientists, irrespective of gender, we want the most representative population included in our trials irrespective of location, and we want to save energy in terms of prudent financial management so we can invest more in research."
This is an ongoing journey and we are making inroads. Here are some initiatives that we are particularly proud of:
our strong research profile in health equity
our work on emission reduction
our contributions to developing an Aboriginal health research workforce
the development of an Innovate Reconciliation Action Plan
being one of the first 15 organisations nationally to receive a Bronze Athena SWAN award for our work to improve gender equity and diversity in STEMM.
Please read our 2022 Environmental, Social and Governance Statement.