The Baker Heart and Diabetes Institute is committed to rewarding excellence in student scholarship. The Paul Korner Medal for Outstanding Achievement was established in honour of Paul Korner's contribution to medical research and the Baker Institute.
Recipients
2021 | Charlie Cohen, Cardiac Cellular Systems and David Chieng, Clinical Electrophysiology
2020 | Sarah Gutman, Imaging Research
2019 | Michael Wheeler, Physical Activity
2018 | Dragana Dragoljevic, Haematopoiesis and Leukocyte Biology
2017 | Yow Keat Tham, Cardiac Hypertrophy
2016 | Paddy Dempsey, Physical Activity
2015 | Jessica Harding, Diabetes and Population Health (sponsored by David and Lisa Thurin)
2014 | Andris Ellims, Imaging
2013 | David White, Experimental Cardiology
2012 | Dion Stub, Heart Failure Research
---
Emeritus Professor Paul Korner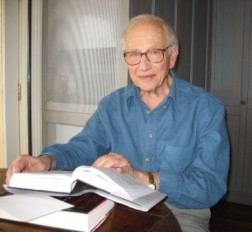 Emeritus Professor Paul Korner graduated from the University of Sydney in Science and Medicine, and obtained his clinical training at Royal Prince Alfred Hospital. In 1975 he became Director at the then Baker Medical Research Institute and during his directorship, the Baker became the first Institute in Australia entirely dedicated to cardiovascular research and earned an international reputation for excellence in research on hypertension and atherosclerosis. He is the author and co-author of some 330 papers, chapters and other published works. He has had a distinguished career, both nationally and internationally. He is an Officer of the Order of Australia, and a Fellow of the Australian Academy of Science.