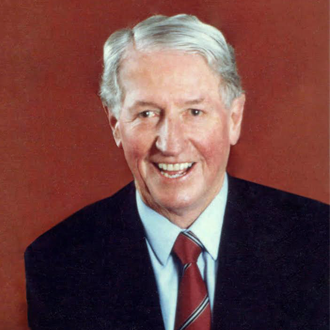 In recognition of outstanding achievement by an emerging leader in heart and diabetes research
The Sir Laurence Muir Prize recognises and honours the exceptional contribution made to the Baker Institute and the wider research community by Sir Laurence Muir. It is awarded, by competitive application, to an individual who has demonstrated outstanding achievement relative to career opportunity and who has provided evidence of high leadership potential.
The recipient will also deliver the Sir Laurence Muir Oration highlighting the significance of their achievements.
Recipients
2022 | Dr Sam Lee
2021 | Dr Kevin Huynh
2020 | Dr Erin Howden
2019 | Dr Xiaowei Wang
2018 | Associate Professor Andre La Gerche
2017 | Dr Francine Marques
2016 | Dr Pamela Davern
2015 | Dr Anna Calkin
2014 | Dr Andrew Murphy
---
Sir Laurence Muir
Sir Laurence Muir was knighted in 1981 for distinguished service to the community and awarded a Centenary Medal in 2001 for outstanding service to the business, financial and research community. A senior partner with Potter Partners until 1980, Sir Laurence served on the Boards of numerous organisations including the ANZ Bank, Crown Limited, Alcoa of Australia Ltd and the Herald and Weekly Times Ltd. He also served the Australian Federal and State Governments and was a member of the Parliament House Construction Authority, the Australian National University Council and inaugural Chairman of the Canberra Development Board.
Sir Laurence was involved in many charitable organisations and was a Patron of the Institute until his final years. Amongst his numerous contributions, Sir Laurence was a founding trustee of Earthwatch Australia and a Board Member of the Sir Robert Menzies Trust. Throughout the 1980s and early 1990s he served on the General Motors Advisory Council and was active on the Anti Cancer Business (fund raiser) Committee, which he had chaired since its formation. He served ten years on the Board of the Royal Flying Doctors Service (Victorian Division) and was a corporate fundraiser for the initial National Heart Foundation of Australia, Anti Cancer Council, and Menzies Foundation appeals. He served for fifteen years on the Menzies Foundation Board and for ten years on the National heart Foundation Board. For almost forty years he was involved in the Alfred Hospital and the then Baker Medical Research Institute Fund Raising effort. After 10 years of service on the Alfred Board he served as a Board Member and later Chairman of the Institute.
Sir Laurence Muir died on 21 April 2010, aged 85.