Dr Kevin Huynh
PhD | BSc(Hons), University of Melbourne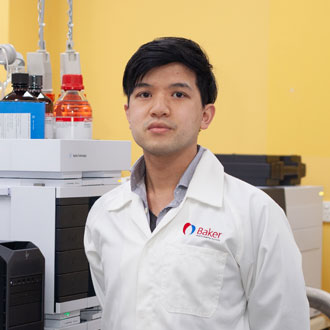 Kevin finished his Bachelor of Science in human pathology at the University of Melbourne and in 2011 completed his honours year with Dr Genevieve Evin in the same university examining the role and action of specific enzymes (secretases) in Alzheimer's disease.
In 2012 Kevin started his role as a Research Assistant in the Metabolomics Laboratory handling and processing omics data and assisting with analysis of large clinical cohorts. In 2015, Kevin started his PhD in the Metabolomics laboratory under the supervision of Associate Professor Peter Meikle and Dr Brian Drew. As of 2019 he is currently a postdoctoral researcher in the Metabolomics laboratory.
His current focus is the continued development and refinement of mass spectrometry techniques and its application to lipidomics and metabolomics, particularly in large clinical studies. Through extensive national and international collaborative efforts, his main research focus is examining the role of plasma lipids to both better understand the complex underlying pathways in different metabolic diseases, such as Alzheimer's disease and Type 2 Diabetes, and to identify individuals who are at risk of developing these diseases.