Our hidden ageing: time to listen to the heart shows more than half a million Australians have heart valve disease, and more than a quarter of a million Australians have undiagnosed heart valve disease. These figures are set to rise significantly in the coming decades and this is concerning because heart valve disease can cause many serious complications, including heart failure, stroke, blood clots, heart rhythm abnormalities, and even death.
Whilst it is a serious problem, the good news is that heart valve disease is increasingly treatable. With early detection and intervention, individuals can contribute to their families, their communities and the economy.
Key findings
There were 50–170% increases in the numbers of people, deaths and loss of disability adjusted life years from non-rheumatic valve disease between 1990 and 2017 in Australia.
There are 500,000–600,000 Australians living with heart valve disease in 2021.
An estimated 254,000 Australians are living with undiagnosed heart valve disease. This number will grow substantially to 336,000 in 2031, and to 435,000 in 2051.
Aortic valve disease is the most frequent cause of severe heart valve disease.
Early intervention in the form of non-surgical valve replacement (i.e. Transcatheter Aortic Valve Implantation or TAVI) for people aged 65 years and above could potentially prevent productivity losses of up to $117 million in a single year.
The common symptoms of heart valve disease — especially exercise intolerance — are often misattributed to 'old age'. Timely diagnosis is based on awareness and clinical examination — especially a doctor listening to the heart sounds.
Access to echocardiography is a vital component in managing heart valve disease in the community.
Click the image below to read this whitepaper.
This whitepaper was made possible thanks to an unrestricted educational grant from Edwards Lifesciences.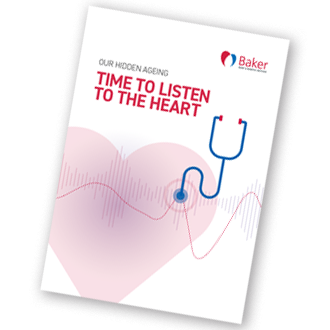 The findings in this whitepaper demonstrate that early detection and intervention are critical in addressing the rising rates of undiagnosed heart valve disease.