This Baker Institute whitepaper is based on a scientific exchange meeting held on Saturday 14 December 2019 to explore the public health and clinical benefits and risks of sodium-glucose co-transporter-2 inhibitors (SGLT2i).
This paper aims to identify the major clinical issues surrounding the safe prescription of these agents. It is intended that this process will form the basis of more formal advice and
guidance to be issued by relevant professional bodies, including the ADS and CSANZ.
Click the image below to read this whitepaper.
This whitepaper was produced with the support of AstraZeneca who provided an independent sponsorship to Baker Heart and Diabetes Institute.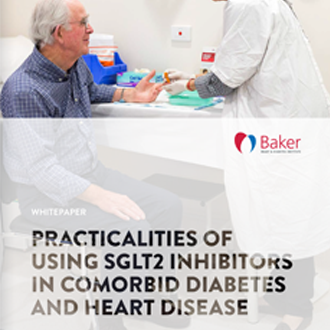 Exploring the public health and clinical benefits and risks of sodium-glucose co-transporter-2 inhibitors