Professor Andrew Murphy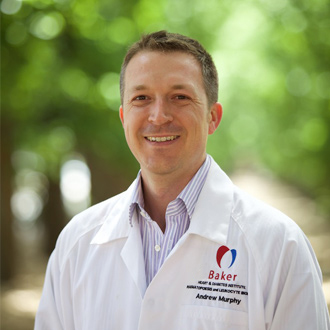 Professor Andrew Murphy obtained a BSc Biotechnology (Hons) from the Queensland University of Technology (QUT) in Brisbane. He then spent a year working on a commercial project for Professor Zee Upton at QUT for a wound healing company, Tissue Therapies. He then moved to Melbourne do conduct his PhD at the Baker Institute, funded by an industry scholarship from the Swiss biotech company Actelion. During this time he discovered an anti-inflammatory role for HDL on circulating monocytes and neutrophils both published in ATVB (collectively >270 citations). Andrew also holds an adjunct appointment at Department of Immunology and Department of Diabetes, Monash University.
Upon completing his PhD, Andrew moved to New York to commence a postdoctoral fellowship with one of the world leaders in HDL biology, Professor Alan Tall at Columbia University. During this time, he was funded by a prestigious American Heart Association Fellowship. His work shifted to examine the role of cholesterol efflux pathways on the proliferation and mobilisation of haematopoietic stem cells (HSCs) in the bone marrow. Specifically, he defined a cell intrinsic role for ApoE in regulating HSC proliferation and showed that increased numbers of circulating monocytes resulted in larger lesions, which was published in the Journal of Clinical Investigation. He also discovered the haematopoietic role of the cholesterol transporter ABCG4 in platelet production and atherosclerosis, along with defining an important feedback loop for the thrombopoietin receptor c-MPL, published in Nature Medicine.
Professor Murphy also initiated a number of collaborations in New York, in particular with Professor Ira Goldberg and Professor Edward Fisher (NYU) along with Dr Prabhakara Nagareddy (UAB) to explore the mechanisms of diabetes (hyperglycaemia) on monocyte production. Using the novel glucose-lowering agent (SGLT2 inhibitors) they discovered that lowering blood glucose levels decreased circulating monocyte levels and facilitate atherosclerotic lesion regression. They discovered the damage associated molecular pattern molecules as important mediators of this event. These studies published in Cell Metabolism have trigger an extensive and collaborative research program run by these investigators.
In 2013, Professor Murphy was recruited back to the Institute and was funded by the prestigious Viertel Award from Diabetes Research Trust Australia where he began to build his research team. Professor Murphy is an NHMRC Career Development Fellow and a National Heart Foundation Future Leader Fellow and holds Project Grants from the NHMRC. He currently has over 50 publications including those inNature Medicine, Cell Stem Cell, Cell Metabolism, Journal of Clinical Investigation and European Heart Journal.