Dr Dominika Kwasnicka
MA(Psychology), University of Aberdeen | MSc, Newcastle University | PhD, Newcastle University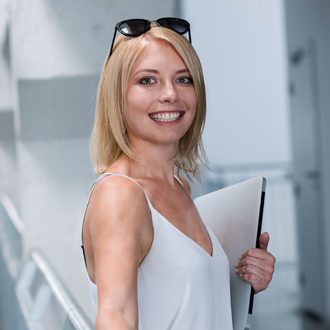 I am a behavioural scientist trained in Health Psychology and Behavioural Medicine (PhD), in Public Health and Health Services Research (Master of Science with distinction), and in Psychology (Master of Arts). I currently work as a Senior Research Fellow in Digital Health at the Nossal Institute for Global Health, Melbourne School of Population and Global Health, at the University of Melbourne, funded by the NHMRC Centre for Research Excellence (CRE) in Digital Technology to Transform Chronic Disease Outcomes, Australia.
Previously, I worked as a Senior Research Fellow, Faculty of Psychology, SWPS University of Social Sciences and Humanities, Wroclaw, Poland. I also worked as a Research Fellow at Curtin University, Perth, Australia and as a Postdoctoral Research Fellow, also at Curtin University, Perth and Central Queensland University, Rockhampton. I am a multidisciplinary behavioural scientist, demonstrating Australian and international leadership in digital health research.
My research investigating how to support people in sustained health behaviour change has had significant impact on the generation of new knowledge, and directly impacted the design of interventions and health promotion programs. Currently, my research program is focusing on health promotion across multiple lifestyle behaviours (e.g. increasing physical activity and decreasing sedentary behaviour, reducing alcohol and tobacco use, promoting healthy eating and improving mental health) and across multiple health conditions (e.g. obesity, cancer, type 2 diabetes, cardiovascular disease).
My research is acknowledged at a national and international level as being influential in expanding the knowledge (23.33% of my publications are in the top 10% most cited publications worldwide, InCites). My national and international standing is demonstrated by a strong record of published work and scholarly achievements (grants, prizes and financial awards totalling approx. $3,500,000.00 AUD).
I am an Editorial Board Member for Annals of Behavioral Medicine, and an Editor for Frontiers in Psychology (Clinical Settings and Health Psychology sections). I review manuscripts for prominent journals (e.g. Health Psychology Review, BMC Public Health, Journal of Medical Internet Research and Stress and Health; 20+ in total). I also review funding applications for NHMRC (ad-hoc reviewer for Project Grants) and for the European Health Psychology Society (networking and conference grants).