Dr Guillaume Méric
BSc, UCBL, France | MSc, INSA Lyon, France | PhD, Norwich, UK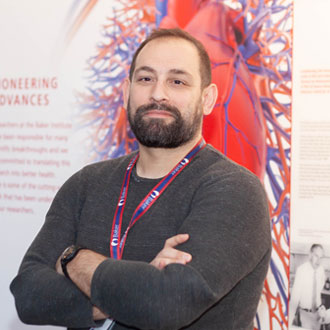 I am a researcher in microbial (meta)genomics, ecology, evolution and systems biology. My current role is to lead and support projects related to the human gut microbiome characterisation, and association with human genetic and environmental factors, using large human population cohort multi-omics datasets. I am also interested in the links between infection, metabolism and disease in hosts.
I am a Senior Researcher and Group Leader within the Systems Genomics laboratory, which is part of the Cambridge-Baker Systems Genomics Initiative, a joint research program led by Professor Michael Inouye between the Baker Heart and Diabetes Institute (Australia) and the Department of Public Health and Primary Care at the University of Cambridge (UK). I am also involved in international consortia focusing on microbiome-related disease association and prediction, as well as mentoring students and junior researchers within our lab.
My past experiences (at the University of Bath, and the Swansea University Medical School) include projects on clinical, environmental and veterinary bacterial pathogens (Escherichia coli, Staphylococcus, Campylobacter, Bacillus, etc.), in collaboration with academic, clinical but also veterinarian and food-producing industrial partners and stakeholders.