Dr Guillaume Méric
BSc, UCBL, France | MSc, INSA Lyon, France | PhD, Norwich, UK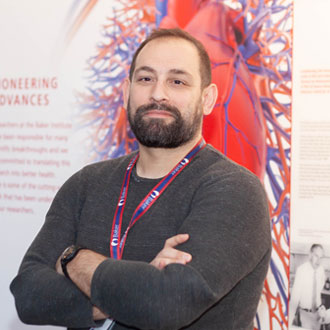 I am a Group Leader and researcher in clinical microbiology, microbial (meta)genomics and bioinformatics and systems biology. I work within theCambridge-Baker Systems Genomics Initiative, a joint research program between the Baker Heart and Diabetes Institute (Melbourne, Australia) and the Department of Public Health and Primary Care at the University of Cambridge (UK).
My basic research interests focus on the bioinformatic and computational analysis of large-scale human population cohort datasets that include a microbial component, typically metagenomic sequences from the gut or other body sites. In my lab, we address a range of clinical, biological and ecological questions on host-microbe association, interaction and function as well as the influence of microbes (commensals or pathogens) and the gut microbiota on health and disease, including metabolic and cardiovascular diseases. Our scientific interests are generalist and fundamental at heart, but a few topics are of particular interest, such as:
The ecology of bacterial pathogens in the healthy human gut and their association with non-communicable diseases.
The genetic basis of pathogenic variation and association with human or animal disease.
The effects of antibiotic and non-antibiotic medication on the gut microbiome and gut resistome dynamics.
The exploration of links between the gut microbiota and host genetics, diet, disease risk and progression.
Before moving to Australia in 2018, I was a researcher in the UK (UEA, Swansea University Medical School, University of Bath/Milner Centre for Evolution) and my research interests included projects on clinical, environmental and veterinary bacterial pathogens (Escherichia coli, Staphylococcus, Campylobacter, Bacillus, etc.), in collaboration with academic, clinical but also veterinarian and food-producing industrial partners and stakeholders. Now in Australia since 2018, I try to combine my dual expertise in infectious disease, pathogen genomics and biology with clinical microbiome science.