At the Baker Institute, we are focused on creating long term mutually beneficial relationships that are engaging and provide shared measurable value to both parties. Corporate Partnerships play a fundamental role in ensuring the Baker Institute continues its commitment to help all Australians live healthier for longer.
To continue to grow, we collaborate with organisations by building meaningful, integrated partnerships. This enables brands to leverage an array of activities across our five streams of work: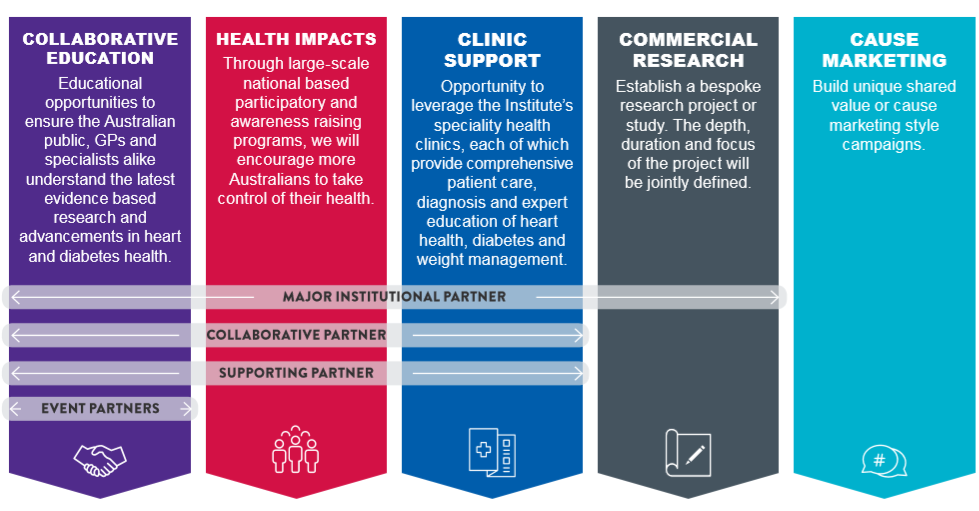 Let's work together!
Our corporate team can accommodate all your needs, whether it be sponsorship, fundraising or donations:
Corporate fundraising
We strive to create unique partnerships that are mutually beneficial with long term sustainability. Your support will directly influence the ability to give all Australians the opportunity to enjoy a longer and healthier life. Together, we can build a long-term partnership with a shared focus on innovation, exploration and an appreciation for the impact we can make to the health of all Australians.
Corporate donations
Philanthropic and corporate support has contributed significantly to Institute priorities, including provision of fellowships to early-career and mid-career scientists, scholarships for PhD students, seed grants for novel and innovative research and project grants for promising research expected to change the future of heart health in Australia.
Corporate sponsorship
There a number of engagement opportunities at the Baker Institute, including the following:
Behind the discoveries event series
This series aims to engage with the public via educational talks and inspirethem to take action towards better health. Held multiple times per year and presented by industry experts, these events are aimed at delivering easy to digest information to lead a healthier lifestyle, and is a great opportunity to meet a wide variety of like-minded supporters of the Institute. The Behind the Discoveries series also includes digital and print publications that are sent to over 50,000 Baker Institute supporters and the wider public.
The Bright Sparks program
Just one of the many ways the Baker Institute is addressing our current health crisis. The Bright SParks program invests in the next generation of scientific leaders who will help to create great change, and a brighter, healthier future for all Australians. Each new group of Bright Sparks scientists go on to excel in their chosen field, help train others, and bring about powerful changes and developments in medical research that ultimately improves the health of all Australians.
The Ticker Test
A three-minute online health survey, known as the Ticker Test, was developed by researchers at the Baker Institute. The Ticker Test is a simple tool that raises awareness of heart health and educates on the risks of heart disease. Users are asked a range of health indication questions from topics including past heart health history diet, exercise, sleeping patterns, age, gender, and smoking status to find out if they are of low, medium, or high risk of cardiovascular disease.
For more information on these or other opportunities for corporate sponsorship, please be in touch with: