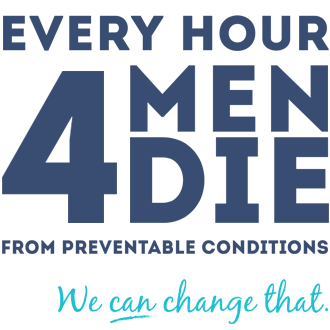 Do you have a husband, son, brother or father in your life?
Your gift today could help develop a life-saving blood test to better predict the risk of developing heart disease and save one of your loved ones.
Heart disease is the number one killer of Australian men.
Losing a loved one is absolutely devastating. No matter what age you are, what triumphs and fails you have endured, or where you have come from; grief simply does not discriminate.
Geoff's story
The story of Australia's own Olympic hero, Geoff Huegill, is testament to that. At 12 tender years of age, in his own arms, Geoff's Dad Ron, aged 55, died suddenly of a heart attack.
"It was a Tuesday, I remember it so well," Geoff described. "I remember going home from training and having a chat with Dad, telling him the great news that I was going away for my first Age Nationals."
"He got up and walked into the bathroom, and minutes later he collapsed. I rang the ambulance, but by the time they arrived, it was too late."
Will you please send a kind donation today, and help save more fathers, husbands and sons like Ron, from Australia's biggest killer of men – heart disease?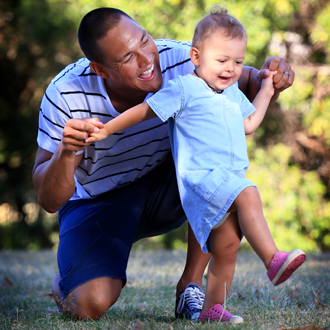 Protecting my girls is the most important thing to me
To get through the tough times and trauma of losing his father, Geoff threw himself into a career of elite swimming, where he became known as one of Australia's greatest Olympic heroes.
At the 2004 Olympics in Athens, however, "it had become a struggle just to get behind the blocks," Geoff said. He took a break, though his once disciplined lifestyle changed dramatically. He put on 50 kilograms and spiralled into clinical depression. "Finally walking away from the sport, saw a flood emotions (for Dad) came back through," he said.
At 27 years of age, Geoff was dealt earth shattering news from a doctor; which revealed he was at risk of developing heart disease.
"I realised there and then, that if I didn't start looking after myself, I was going to have a heart attack, just like my father did," Geoff said.
Tragically, heart disease is the number one killer of our Australian men. 23 men suffer a stroke every hour, and almost 40% of them live with a permanent disability following the event. Type 2 diabetes is the fastest growing chronic condition of our time.
Geoff could not stress the importance of your support, to ensure that more Australians could be tested and screened for life-threatening heart disease.
"We have the best scientists, doctors and research in the palm of our hands here, if everyone could make a donation to the Baker Institute, no matter how big or small, we could save the lives of so many Australians and prevent the heartbreak and tragedy that I know rips families apart."
Family is now at the heart of Geoff's life.
"I never want my girls to go through the same things I went through as a teenager, I want to make sure I am fit and healthy to be around for them for decades to come. My family is the best thing that's ever happened in my life. Protecting my girls (his two young daughters Mila and Jazelle, and wife, Sara) is the most important thing to me."
The facts
Heart disease – Australia's number 1 killer
Despite advances in medicine and public health, heart disease remains the leading cause of death in Australia and accounts for 19% of the burden of disease.
Recent overseas data shows that over the past five years, death rates from coronary heart disease and stroke have not reduced as much as before. Compounded by the increasing prevalence of type 2 diabetes and obesity (known as 'diabesity'), the need for new research into better prevention, treatment and care is even more critical than ever.
As outlined in the recent Change of Heart report, in order to improve our healthcare system, our health professionals need support for better diagnosis and new tools for better patient care; the ability to better identify at risk groups.
A revolutionary blood test to screen for heart disease
The Baker Institute's Associate Professor Peter Meikle has identified plasma lipid biomarkers (fats in the blood) that improve upon traditional risk factors in predicting heart disease and stroke.
Peter and his team are developing a simple blood test to measure these lipids and better predict the risk of developing heart disease. This test also has the potential to better predict other chronic diseases such as type 2 diabetes and Alzheimer's disease.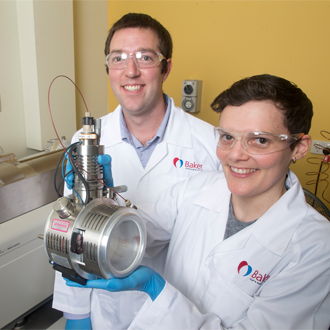 We need to raise $600,000 to fund a vital new Mass Spectrometer
To date, an American prototype of Peter's test is based upon evidence of only 2 lipids. This test is not available in Australia. Peter's test, however, is even more advanced and potentially accurate, in that he has identified a total of ten lipids that are markers of heart disease.
In 2–3 years your doctor could be able to order this new test, like they currently order a cholesterol test, and potentially save the life of you or your loved ones.
How your generous gift will help
In order to see this blood test advance from our laboratory to the healthcare system and into your doctor's clinic, the Baker Institute desperately needs to raise $600,000 to fund a vital piece of sophisticated equipment called a Mass Spectrometer.
The technology of the Mass Spectrometer wholly and entirely underpins the trial studies that will see this important diagnostic blood test reach the Australian population.
"We have the information for this blood test to become available for all Australians, but we are disadvantaged by not having a crucial piece of equipment to prove it," Peter said.
Before the diagnostic blood test can be rolled out across Australian hospitals and pathology laboratories, Peter and his team need to use the Mass Spectrometer to carry out trials of 22,000 blood samples.
A Mass Spectrometer has a typical lifespan of around eight years, and with the Institute's current machine now nine years old. We are in desperate need of a new, state-of-the-art Mass Spectrometer to bring this new screening test to doctors and healthcare providers in as little as 3 years.
The time is now. We have the opportunity to not only save lives, but to end the heartbreak, grief and loss experienced unnecessarily by so many Australians who lose their men to preventable conditions every day.