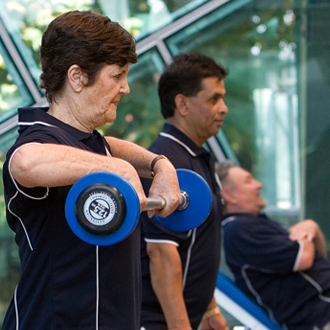 Putting the physical back into activity
Program leads: Associate Professor Erin Howden
Almost two in three Australians adults and more than one in four children are now overweight or obese, putting them at serious risk of type 2 diabetes and heart disease. Physical activity through-out a person's life is one of the most effective means of reducing the risk of obesity, diabetes, heart disease as well as some forms of cancer, yet many people don't achieve sufficient levels of activity to ward against these risks. At the other end of the scale, we've all seen media reports of elite athletes who drop dead through over-exertion. So how much activity is enough? Is there such a thing as too much activity for some people and how can we all achieve a greater level of healthy movement in our day? Does it matter how long you exercise for and what role does the intensity of activity play in supporting better health? Our group is intent on tackling these questions.
Over the next five years, researchers drawn from biomedical, clinical and population health science will study the full spectrum of physical activity in order to develop new approaches to helping people start and maintain an active lifestyle. At a community level, we'll initiate trials and assess population data to establish the conditions that make physical activity more accessible and in doing so, prevent and manage the incidence of chronic disease. We also want to understand how a person's ability to adapt to different levels of exertion can be used as a predictor of risk for cardiac failure. At a molecular level, we'll be working to understand how exercise changes cellular mechanisms and exploring whether we can induce these positive changes with new drugs.
We envisage that these findings will be used to inform policies and national health guidelines as well as identify targets for new drug therapies that replicate the benefits of exercise.
Ultimately, we want to make it easier for everyone — regardless of age, gender or socio-economic status — to move more often in order to prevent and manage Australia's burden of disease.