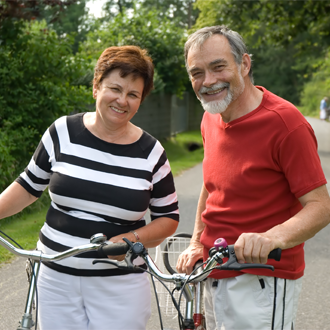 Restoring quality of life for people with type 2 diabetes
Program leads: Professor Jonathan Shaw and Professor Dianna Magliano

Dialysis — Heart Attack — Amputation. These are the devastating consequences of type 2 diabetes.
Over the next five years, our vision is to reduce the burden of diabetic complications by establishing clinical trials of new drugs. If we're successful, these interventions will result in fewer people with type 2 diabetes experiencing cardiovascular events such as heart attack and stroke and a reduction in the number of people whose lives are impacted by the serious consequences of kidney disease, including dialysis and transplantation. As scientists, our goal is to fully understand the interactions that happen at a molecular level which cause conditions such as blindness and damage to the circulatory system resulting in limb amputation.
While it's important that we tackle these complications, we aim to do more than treat those who are already experiencing serious medical conditions; we want to develop sophisticated diagnostics for early identification and prevention of adverse symptoms and in doing so, ensure that we halt their progression before they become life threatening-conditions. By proving the efficacy of new drugs with rigorous research and clinical trials, we envisage that our work will influence standard care and will be implemented in national guidelines for the treatment of diabetes. Fewer heart attacks, a reduction in the number of amputations and better kidney health for people with type 2 diabetes.
That's our goal.
These projects need your support
Exploring diabetes epidemiology through big datasets

By linking to large datasets, this study aims to shed new light on the burden of diabetes in Australia, including whether there is progress in preventing kidney failure and if diabetes is leading to an excess of conditions such as Alzheimer's disease.

More info