29 May 2023
Institute news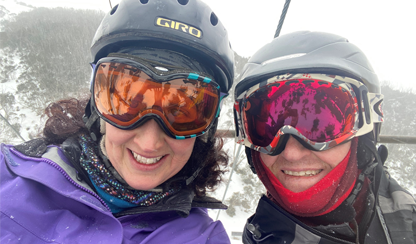 From a hectic inner-city emergency department to Indigenous communities in the remote Far North, the lofty heights of the Queenstown ski fields, all the way to the Baker Institute, research nurse Kym Rickards has nursed in all environments. Ahead of National Reconciliation Week, we go Fast Five with Kym, our newest Reconciliation Action Plan Committee member.
What do you do at the Baker Institute?
I am a Research Nurse with the Physical Activity laboratory and have been at the Baker Institute since 2016. My role is 50:50 desk and clinical based. I am hands on with all aspects of our study visits from collecting bloods, taking DEXA and FMD scans, to running study visits. Whilst desk based, I'm recruiting participants for the OPTIMISE study and coordinating a Physical Activity sub-study with the PREDICT study team.

How did your previous roles lead you to your work at the Baker Institute?
Having worked in Emergency, urgent care and remote communities in Western Australia and far North Queensland, as well as my health promotion undergraduate degree, I wanted to do more preventative health. Whilst ED was great at fixing immediate problems, I wanted to do more to improve the overall health of population groups. In order to make the move from ED nurse to research I nurse; I completed a Master of Public Health which helped me transition away from a clinical nurse role. Whilst I miss the management of severe orthopaedic injury and emergency medicine, I no longer miss the drama of a full and busy emergency department. My husband is a paramedic and I can live vicariously through him if I need to.

You've worked in remote communities and seen first-hand the problems that our Indigenous communities face, how can we as individuals help?
Having worked in Halls Creek in the Kimberley region in WA and Kowanyama on Cape York Peninsula in Queensland, I'm aware of the health care and social issues facing remote Indigenous communities. How I think we can help is through educating ourselves of the inequalities and challenges facing Indigenous communities and being respectful to all people. I think it's great that we are starting to have conversations about this which is a great first step. I am glad that my children's schools and kinders have a strong focus on Indigenous education, culture and respect.

You've recently joined the Baker Institute RAP Committee. What do you hope to achieve through your participation?
Getting conversations started and improving people's knowledge and support of Indigenous Australians. Hopefully, this will eventually improve the health and social inequalities for Indigenous Australians.

Tell us something about yourself that people may not know.
I was a ski field nurse in Queenstown, New Zealand for three winter seasons. The medical team worked closely with the ski patrol and managed injuries and the odd medical emergency that happened at Coronet Peak and The Remarkables ski field. It was a fun job, but terribly paid. The trade-off was that when we didn't have patients, we were free to ski or ride. In case you're wondering, we saw more snowboarding injuries than skiing injuries — I know we love statistics around here!