07 July 2022
Institute news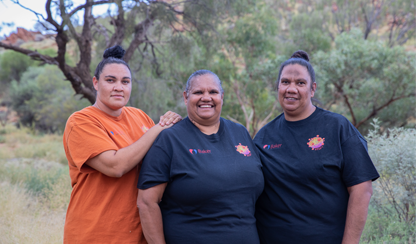 This week is NAIDOC Week, a week when we celebrate and recognise the history, culture and achievements of Aboriginal and Torres Strait Islander peoples. At the Baker Heart and Diabetes Institute, we are committed to health equity and have a research facility at Alice Springs Hospital, where we undertake important research work. We are also committed to developing an Aboriginal health research workforce.
This NAIDOC Week, we go Fast Five with Yasmin Watts, who works as a researcher out of our Alice Springs facility on the HTLV-1 Research project. Yasmin's role engaging with the community is vitally important to our HTLV-1 work and she spends much of her time in the field in remote communities.
What inspired you to pursue a career in research?
I didn't have any intentions of going into research as it was an unknown area of work for me but at the time that I took up the position, I was at a crossroads of where to next. I knew I wanted to do something different and a friend suggested a job at the Baker Institute in research. I thought I might as well give it a go as it was something different and I found I really enjoyed it so am still here today.
What does your research involve?
I mainly do community engagement work, talking about research within Indigenous remote communities, explaining about our HTLV-1 study and how Aboriginal people can help to improve our health. I also find myself as a consultant of sorts between the Baker Institute, the community and our consortium of doctors, professors and other research stakeholders.
A large amount of my time involves setting up trips to our communities. There's a lot of liaising involved in working out the schedules and the travel and some communities are up to 300kms away. There are lots of Zoom calls and phone conversations, too. I love travelling to the remote communities, engaging with our community members and consenting study participants to our study. It's very rewarding.
What is the biggest challenge of your work?
Working through the logistics of travel and accommodation can be tricky and also working through cultural awareness and safety for the team, study and the community.
What are some of your favourite things to do outside of work?
I love spending time with my family and I especially enjoy spending most Saturdays down at the footy watching my sons and nephews play football for our local club, along with our other family members and supporters. When I can, I try and go home to Katherine to visit my mum and family. We all love to go swimming and fishing in the Katherine River.
But my favourite place in the world is being with my six kids and seven grandchildren. I also love the serenity of my home town, Katherine, in the Top End. I love going home whenever I can.
What or who inspires you to make a difference?
I am truly inspired by my people, the Indigenous people of Australia. I do what I do for them so that hopefully one day we are able to make a difference to the health outcomes of our people. I am also inspired by my family, my team and all the great staff who I have met at the Baker Institute. They have been patient and understanding throughout my three-year journey with the Institute and in research.