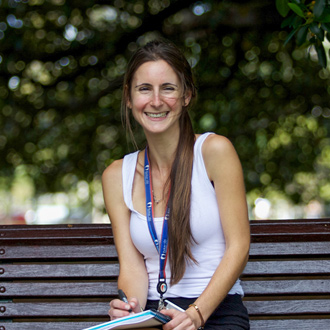 Being open to new experiences has paid dividends for Elyse
Immersing herself in student life by serving on the Baker Institute's Student Committee helped Dr Elyse Di Marco hone her networking and leadership skills alongside her scientific capabilities.
Serving as both Treasurer and President of the Student Committee, which involved organising student retreats and liaising with senior scientists, also helped her to develop proficiency in time and budget management and to forge lasting professional relationships with more senior scientists.
Elyse did her Honours and PhD at the Baker Institute, attracted by the Institute's leading research in diabetic complications and strong links to patients in the clinic. During her time at the Institute, she explored the roles of a particular type of enzyme in vascular oxidative stress and inflammation, with her work revealing important considerations for the future treatment of diabetes-accelerated atherosclerosis.
She produced eight peer-reviewed articles, including publications in top-tier journals such as Circulation, and presented her work at both national and international conferences.
Throughout her student years, Elyse was the recipient of many awards and scholarships including a Postgraduate Publication Award from Monash University in 2015, the Atherosclerosis Society Young Investigator Award in 2014 and a National Heart Foundation Postgraduate Biomedical Scholarship in 2012.
In early 2016, she relocated to Europe with the intention of completing postdoctoral studies and then transitioning into a role in the pharmaceutical industry. However, she says a unique opportunity came up to work at one of the world's leading diabetes-focused companies, Novo Nordisk, that fitted her skillset and she was fortunate to secure the role.
As a Senior Research Scientist in the Diabetes Complications department of Global Research in Denmark, her current role involves exploring novel potential therapeutics in preclinical models of diabetic nephropathy.
During the next decade, Elyse hopes there will be significant developments in diabetes complications treatment and that her involvement will be in R&D strategy and management.