Dr Thomas Meikle
BASc, RMIT University | MSc | PhD, University of Melbourne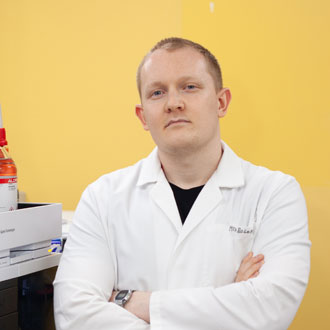 Thomas Meikle graduated with a PhD from the Department of Chemistry at the University of Melbourne in 2017. His research focused on the structural characterisation and applications of self-assembled lipid based nanomaterials, and their interactions with biomolecules. This work explored the use of cubic phase lipids in the crystallisation of membrane proteins for X-ray crystallography, as well as their application as drug encapsulation matrices.
Thomas continued this research in his postdoctoral studies at RMIT University (2017–2020), examining the use of dispersed lipid nanoparticles in the encapsulation and delivery of novel antimicrobial drugs, such as antimicrobial peptides and metal nanoparticles. He has also worked on the application of NMR spectroscopy for the physical characterisation of lipid nanomaterials.
Thomas joined the Metabolomics lab at the Baker Institute in 2020, where his current research focusses on the development of tandem mass spectrometry methods for clinical lipidomic profiling.