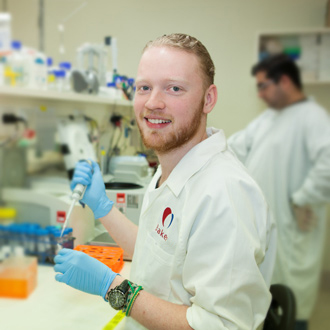 Adam is helping to understand the impact of disease and frailty on the human body
After years of persistently pursuing a career in science, Adam Hagg has begun his PhD at the Baker Institute thanks in equal part to a scholarship from Monash University and plenty of grit and determination.
It is something that Adam's year ten science teacher would be proud of, recognising his talent for science and thirst for knowledge at an early age.
During the past several years, his passion for science hasn't wavered, even though it has meant holding down multiple part-time jobs, long hours and sacrificing time with his wife, family and friends to see him through.
"I wouldn't tell anyone that a career in science is easy, it's a lot of hard work, there's financial uncertainty and plenty of ups and downs but if it drives you, then it is absolutely worth the sacrifices," Adam says.
He has, he says, landed in one of the Institute's "coolest labs", where the latest cellular and molecular biology techniques are embraced to understand how cellular signalling pathways regulate skeletal muscle function in health and in disease states such as physical frailty.
"I love this idea of devising and answering mechanistic questions about the human body and the impact of disease."
As well as honing his skills at the bench, he also recognises the importance of good communication and says he enjoys conversing with people from a variety of industries and backgrounds to promote the value of science to the broader community.
With Australia, like many other nations, facing an ageing population and associated health issues such as physical frailty, the work of Adam and his colleagues has never been more important. He will be working in the Muscle Research and Therapeutics laboratory with Dr Paul Gregorevic, helping to develop new methods of preventing and treating the symptoms of muscle-related diseases.