Advanced understanding of blood coagulation that led to improved treatment in areas including cardiovascular surgery and haemophilia.
In the 1940s, researchers at the Baker Institute were interested in the biochemical reactions involved in blood clotting or coagulation.
An anti-coagulant drug, EDC, which clinicians found superior to an existing anti-clotting drug for treating heart attack and preventing thrombosis, was developed. The researchers worked on the revolutionary concept of the coagulation cascade and Baker Institute scientists are generally credited with the discovery of a blood clotting component now named Factor V (Fantl, P et al. Med J Australia 1948).
Using simple equipment to study the aberrations of blood clotting, they made important contributions to many aspects of blood coagulation and applied their findings to clinical situations. These included the development of open heart surgery at The Alfred Hospital, and understanding and establishing efficient management of haemophilia.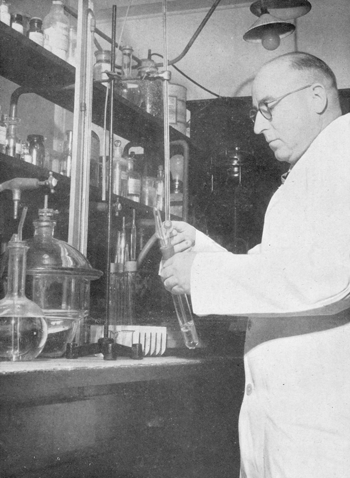 Paul Fantl engaged in biochemical research into hemorrhagic disorders.
Source: Alfred Hospital Annual Report 1949