Demonstration that regular exercise lowers blood pressure and cardiovascular risk, and mechanistic insight into the physiologic basis for such action.
Although physical activity was recommended for the prevention of cardiovascular disease in the 1980s (based largely on epidemiological studies), there were no data on the extent of the benefit, the physiologic basis for reducing risk and the amount of exercise required. A team of Institute researchers conducted a series of controlled clinical trials examining healthy people who undertook different levels of activity including exercising casually (three times a week) and engaging in daily exercise. By measuring a range of cardiovascular disease (CVD) risk factors, including sympathetic nervous system activity using a technique developed at the Institute, they gained valuable insights into the benefits of exercise.
They found that daily exercise delivered the best outcomes, but there was little difference in health benefits between casual exercise and daily exercise, with casual exercise lowering CVD risk factors such as blood pressure (Jennings, G et al. Circulation 1986). The benefits of moderate regular exercise for specific patient groups including people with hypertension, heart failure and diabetes were also established in clinical studies, highlighting the important non-pharmacological method of treating such conditions (Nelson, L et al. Lancet 1986).
This body of work, conducted at the Institute over several decades, has helped to inform physical activity guidelines and to enhance the management and quality of life for people living with chronic disease.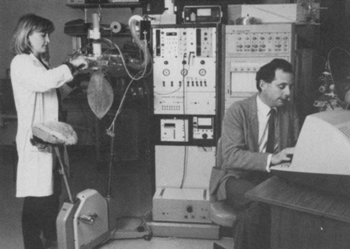 Lisa Nelson and Garry Jennings calibrating exercise equipment in the Clinical Research Unit.