Project title: Codesigning adaptations to digital healthcare delivery for people with acute coronary syndrome: Smart-CR
This project was derived by our successful La Trobe University Large Collaborations Scheme application. Co-designing the eNav for Health and Wellbeing is a proof-of-concept program to facilitate the La Trobe/Baker-led external funding applications of scale. A large interdisciplinary team of researchers from across multiple research centres will disseminate findings through seminars and publications to help bridge the gap between the smaller individual grants and the larger externally funded initiatives.
This research program is responding to the urgent need for a cost-effective, convenient, accessible, sustainable, and scalable virtual delivery of healthcare service at home. This unique solution we are proposing is eNav for Health (Figure 1), a technology-enabled framework that will provide a digital ecosystem of individually tailored support and healthcare delivery of services to people with chronic and complex medical conditions and/or disabilities.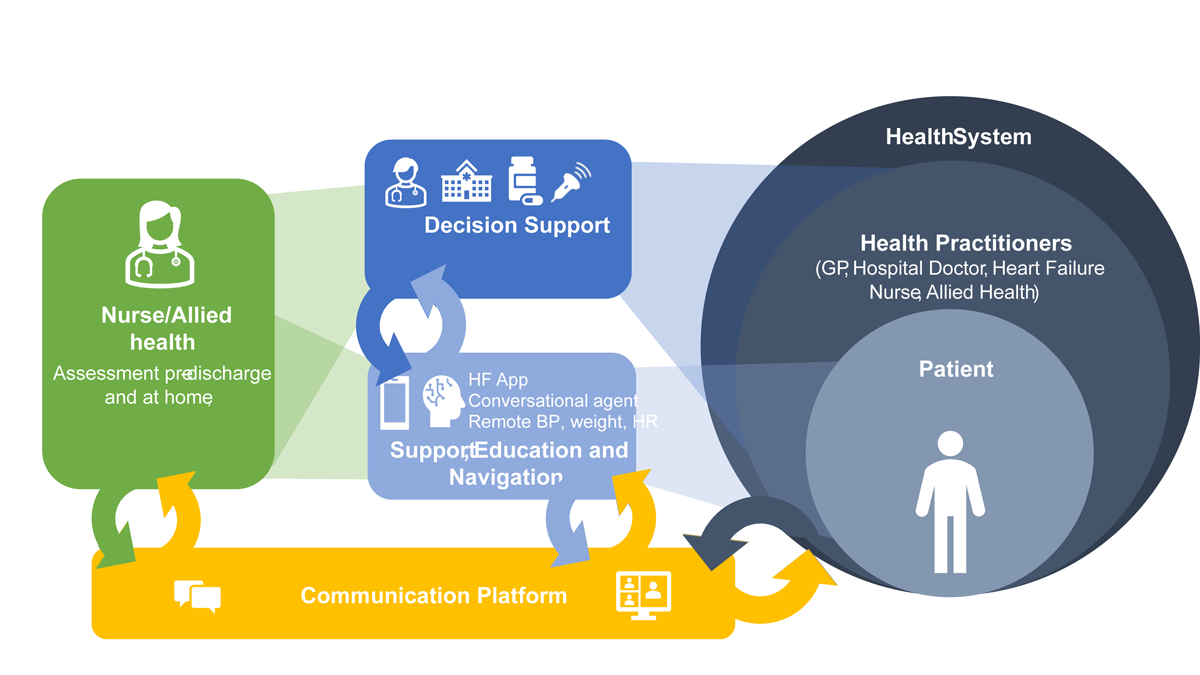 Figure 1: eNav for Health
Codesigning adaptations on digital healthcare delivery for people with Acute Coronary Syndrome (ACS) is a project originating from the Large Collaborations Scheme programme. This project uses a participatory research approach to codesign and adapt an existing digital cardiac rehabilitation delivery model (Smart-CR).
Partnering with the Baker Heart and Diabetes Institute, Bendigo Health, and Northern Health, the team will investigate knowledge about health navigation and issues affecting access to programs and services for people with Acute Coronary Syndrome.
The team will also investigate about knowledge, functionality, features, and how existing technologies (e.g. apps, conversational agents, chatbots, wearable sensors) can integrate into Smart-CR.
The aim of this project will be to:
Incorporate the needs and experiences of people with ACS and other stakeholders (healthcare practitioners and technology experts), including knowledge of health navigation and any issues affecting access to programs and services, into the codesign of an iteration of Smart-CR.
Explore the acceptability of Smart-CR and any perceived barriers and/or enablers to its use through individual case stories.
Assess the usability and feasibility of the "prototype iteration" with a subset of people with ACS using a validated tool and gain participant perspectives for further ideation.
For more information, contact Chris Lynch.