Dr Jonathan Noonan
BSc(Hons) | PhD, University of Glasgow, Scotland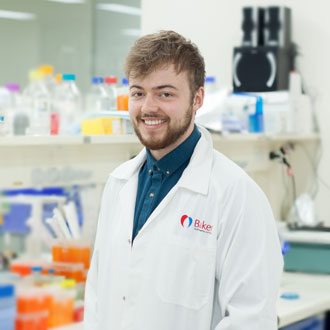 Dr Jonathan Noonan is a Group Leader in the Atherothrombosis and Vascular Biology Laboratory. He leads a program of research focused on establishing how the immune system contributes to inflammation of the heart and blood vessels in cardiovascular disease. By doing so, he aims to develop new anti-inflammatory therapies that prevent heart attacks and strokes.
Chronic Inflammation has recently emerged as a critical component of cardiovascular disease. However, the immune mechanisms that underpin this inflammation are unclear. Dr Noonan's research aims to overcome this limitation, predominantly focusing on the role T cells play in perpetuating atherosclerotic inflammation and their influence on plaque rupture. Downstream of plaque rupture; Dr Noonan leads several projects investigating how T cells drive adverse cardiac remodelling following myocardial infarction, and how inhibiting these T cells may alleviate this consequence and preserve heart function. To achieve his aims, Dr Noonan utilises advanced preclinical models, human vascular tissues and state-of-the-art approaches including single-cell RNA sequencing, spectral flow cytometry and confocal immunofluorescent microscopy. He has established collaborations with national and international leaders in cardiovascular disease, immunology and vascular surgery.
Since being recruited to the Atherothrombosis and Vascular Biology Laboratory in 2019, Dr Noonan has received significant funding for his research, including a Cardiac Society of Australia and New Zealand (CSANZ)-Bayer Young Investigator Award, CASS Foundation Project Grant, and two Heart Foundation Vanguard Grants. He is co-founder of the Alfred Research Alliance Genomics Users Group and a member of the Baker Institute Early Career Scientists and Mentoring Committee. In addition to his position at the Baker Institute, Dr Noonan holds honorary appointments at the Institute of Infection, Immunity and Inflammation at the University of Glasgow, United Kingdom; the Immunology Department at Monash University; and the Baker Department of Cardiometabolic Health at the University of Melbourne.