Professor Peter M Kistler
MBBS, PhD, FRACP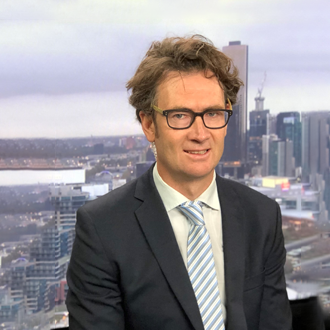 Professor Kistler is an international leader in cardiac arrhythmia research.
He is the Head of Clinical Electrophysiology Research at the Baker Heart and Diabetes Institute and Head of Electrophysiology at The Alfred hospital. He has joint appointments as Professor of Medicine at the University of Melbourne and Monash University.
Peter was the senior author of the first randomised study defining the role of alcohol abstinence in atrial fibrillation published in the New England Journal on January 2nd 2020. Peter's research has drawn international attention being featured in print and electronic news media across the world in defining the role of alcohol and coffee in heart rhythm disorders as well as ablation in improving heart function.
He has completed a PhD in atrial fibrillation mechanisms and postdoctoral research at St Bartholomew's Hospital, London. He has been supported by the NHMRC and National Heart Foundation through fellowships and project grant support. He is an invited speaker at the major international cardiac meetings. He was a member of the scientific program committee for the World congress of cardiology scientific sessions in 2014 and Asia Pacific Heart Rhythm Society meeting in 2015. He is the Australian representative on the membership committee for the Asia-Pacific Heart Rhythm Society and has been invited to be part of the National Heart Foundation and Cardiac Society writing committee for the national heart failure guidelines for 2017.
Peter is Chair of the AF ablation guidelines for the Cardiac Society of Australasia (CSANZ). His expertise is in the management of patients with arrhythmias which encompasses diagnosis, medical therapy, electrophysiology study and catheter ablation and device therapy including pacemakers, defibrillators and cardiac resynchronisation therapies. He has a particular interest in catheter ablation of complex arrhythmias such as atrial fibrillation, specifically the role of arrhythmias in heart failure using the latest diagnostic techniques and novel mapping tools to achieve better outcomes with catheter ablation.
Achievements
Peter has more than 200 publications many in the world's leading cardiology journals. He has made a substantial contribution to the field of arrhythmias and supervised 16 PhD students. As recognition of his international expertise in atrial tachycardia Professor Kistler is an invited international speaker and the current author for the "Up to Date" chapter on Focal Atrial Tachycardia. He is on the international editorial boards for Heart, Journal of Cardiovascular Electrophysiology (JCE) and British Medical Journal: Case reports and is an invited reviewer for international journals.
Awards
Professor Kistler was the recipient of the RT Hall prize in 2020 which is the most prestigious research award of the CSANZ and recognises the achievements of senior and established investigators. The Prize is awarded in open competition and is directed towards recognition of sustained and outstanding research achievement. Peter was a finalist for the prestigious Young Investigator Award for the Heart Rhythm Society(HRS) in 2004, and the Ralph Reader Basic Science Award at the Australasian Cardiac Society in 2005 and was awarded the HRS Fellow Clinical Research Award (USA 2005).