Dr Tin Kyaw
MBBS | PhD | FESC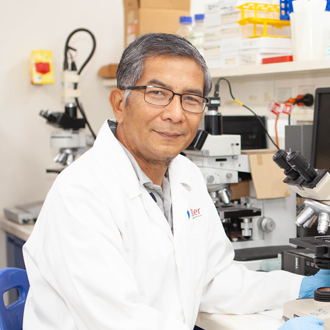 Dr Tin Kyaw is the head of Inflammation and Cardiovascular Disease. He completed his medical degree at the University of Medicine 1, Yangon, Myanmar and completed his PhD at the Department of Physiology, National University of Singapore. During his PhD thesis, he studied the pathogenesis of neuropsychiatric lupus in humans and lupus mouse models. After joining the Baker Institute in 2007, he started investigating how immune cells contribute to atherosclerosis development, vulnerable plaque formation and plaque rupture. He aims to establish therapeutic strategies to limit lesion inflammation to prevent premature plaque ruptures.
Dr Kyaw has made major contributions to cardiovascular immunology. His studies completely rewrote the way B cells were thought to be involved in atherosclerosis by demonstrating different B cell subtypes contribute differently to atherosclerosis; follicular B cells were pro-atherogenic whilst peritoneal B1a B cells were protective against atherosclerosis. He also showed the importance of atherogenic IgGs in atherosclerosis. In addition to B cells, his interest extends to CD8+ T cells, NKT cells, NK cells and γδ- T cells in atherosclerosis and cardiac fibrosis.
He actively collaborates with scientists from across the Baker Institute and academic institutions such as Monash University and the University of Melbourne.
His current projects include the development of biomarkers to identify patients who are at higher risk of myocardial infarction and novel therapeutic strategies to prevent vascular and myocardial inflammation in cardiovascular disease utilising unique features of different immune cell contributions.