21 October 2021
Institute news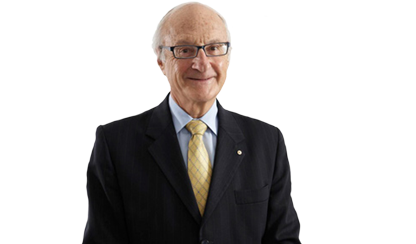 Top Melbourne researcher and clinician, Professor Paul Zimmet AO has been recognised in the American Diabetes Association's international medical journal, Diabetes Care, for his extraordinary contributions to the field of diabetes.
Long-time collaborator, Professor Jonathan Shaw from the Baker Heart and Diabetes Institute has penned the moving tribute titled 'A Voice for Diabetes'. It highlights the profound impact that Professor Zimmet has had on the lives of people living with diabetes around the world throughout his 50-year career.
Professor Zimmet's pioneering research in Pacific and Indian Ocean populations in the 1970s and 1980s was ahead of its time in predicting the current global diabetes epidemic, and in demonstrating the profound impact lifestyle has on type 2 diabetes.
In 1985, he and colleague, Dr Matthew Cohen created the International Diabetes Institute in Melbourne. The large diabetes clinic and diabetes education centre was recognised globally for its major influence in diabetes research and care and was designated as the first World Health Organization Collaborating Centre for Diabetes. It continues to operate today at the Baker Institute, facilitating over 5000 patient visits annually.
In the late 1990s, Professor Zimmet designed and then led the largest Australian longitudinal population-based study examining the natural history of diabetes, pre-diabetes, heart disease and kidney disease. With over 11,000 participants, the Australian Diabetes, Obesity and Lifestyle Study (AusDiab) became the largest national survey and was critical in informing Australia's national diabetes policy.
He also established a diabetes education service with the Indigenous community in Northcote, and was instrumental in the development of a diabetes clinical service for remote communities in Central Australia.
Professor Zimmet was the Co-chair of the 2016–2020 National Diabetes Strategy and was recognised nationally as the 2018 Senior Victorian Australian of the Year.
He has published more than 1000 research papers, he has repeatedly been named one of the world's most influential scientific minds, and he is listed in the top 10 diabetes researchers for global impact.
Professor Zimmet has influenced numerous humanitarian programs to prevent diabetes, and he continues to advocate for action to counteract this serious health threat. Induction into the Diabetes Care 'hall of fame' is due recognition of Professor Zimmet's lifelong contributions to public health.
As the Baker Institute marks its 95th anniversary, we celebrate the extraordinary role that Professor Paul Zimmet has played in both the history of this organisation, and in improving the lives of people with diabetes around the world.