Dr Sudip Paul
BSc(Hons) | MSc, Jahangirnagar University | PhD (Monash University)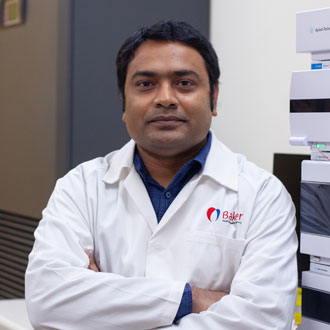 Sudip completed his Honours and Masters in Biochemistry and Molecular Biology from Jahangirnagar University, Bangladesh. He has been working as a faculty of the Department of Biochemistry and Molecular Biology, Jahangirnagar University, Bangladesh since 2012.
Sudip completed his PhD under the supervision of Professor Peter Meikle and Dr Graeme Lancaster in the Metabolomics Laboratory of the Baker Heart and Diabetes Research institute with scholarships from Monash University. He has recently joined the Metabolomics laboratory as a Research Officer.
His current research focus is elucidating the role of plasmalogens in metabolic diseases and investigating the potential of plasmalogen modulation as a therapeutic for metabolic diseases. He is also interested in studying the role of breast milk lipids on modifying cellular metabolism.