Dr Yi Wang
PhD, University of Sydney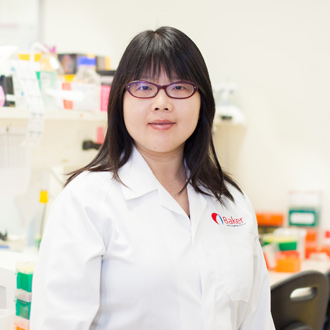 After completing her PhD studies in 2011 from the University of Sydney, Dr Yi Wang performed her postdoctoral training at the Diabetes Center of University of California, San Francisco, in Professor Christian Vaisse's lab, who was the first to discover mutations of leptin receptor and melanocortin-4 receptor in severely obese humans. In 2018, Dr Wang returned Australia and joined the Baker Heart and Diabetes Institute, where she continued to study novel brain circuits that regulate long-term energy homeostasis, in collaboration with A/Prof Brian Drew, A/Prof Anna Calkin and Professor Geoff Head.
Dr Wang has been successful in attracting over $1.3M research funding including two NHMRC Ideas grants as Chief Investigator A. She is leading a research group of staff and students to perform neuro-metabolism research by utilising state of the art neuro-genetic approaches, with a focus on identifying and validating novel regulators in the brain with therapeutic potential to treat obesity and its related metabolic diseases.
Dr Wang's work has been published in many leading journals including Nature Genetics, Journal of Clinical Investigation, Science, Science Advances, Nature Metabolism and Diabetes Care.