Dr Yi Wang
PhD, University of Sydney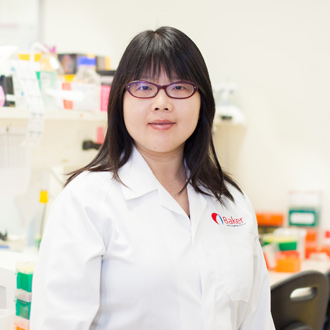 Dr Yi Wang completed her PhD at the University of Sydney, funded by a very competitive international research scholarship. Her research work proved that the reductions of insulin resistance, HbA1c, and C-reactive protein are related to exercise-mediated improvements in body compositions in older adults with type 2 diabetes.
In 2011, Dr Wang moved to the Diabetes Center, University of California, San Francisco to join in Dr Christian Vaisse's Laboratory. Dr Wang successfully demonstrated the abilities to perform stereotaxic surgeries to modify genes or deliver drugs to specific areas in mouse brains to study the neuronal regulations of obesity. Her work showed that the subcellular localisation of MC4R with ADCY3 at neuronal primary cilia underlies a common pathway for genetic predisposition to obesity.
Dr Wang joined the Lipid Metabolism and Cardiometabolic Disease, and Molecular Metabolism and Ageing laboratories at Baker Heart and Diabetes Institute in May 2018. Her current research focuses on the role of IDOL (Inducible Degrader Of the Low-density lipoprotein Receptor) in protection against lipid-induced insulin resistance in skeletal muscle and liver.
Dr Wang has over 10 publications in high impact journals including Nature Genetics, Molecular Psychiatry, Diabetes Care and Journal of Cachexia, Sarcopenia and Muscle.