Development of a body of observational and experimental evidence pointing to the clinical and population-health significance of sedentary behaviour — too much sitting as distinct from too little exercise.
Epidemiologic studies by Baker Institute scientists through the International Diabetes Institute's AusDiab survey provided the initial evidence that large amounts of time spent sitting can have adverse impacts on markers of cardiometabolic health (Dunstan, D et al. Diabetes Care 2004) and can increase the risk of cardiovascular mortality (Dunstan, D et al. Circulation 2010).
Benefits of regularly breaking up sitting time (Healy, G et al. Eur Heart J 2011) were then demonstrated and studies in the Baker Institute's Physical Activity Laboratory provided the first experimental evidence that interrupting prolonged sitting has beneficial impacts on blood glucose and insulin for inactive overweight adults (Dunstan D, et al. Diabetes Care 2012) and for patients with type 2 diabetes (Dempsey, P et al. Diabetes Care 2016).
This has led to a paradigm shift in thinking about the role of physical activity in the prevention and management of diabetes and cardiovascular disease. The Baker Institute's program of sedentary behaviour research has informed policy and best-practice recommendations, including Australia's 2014 Physical Activity and Sedentary Behaviour Guidelines and the 2016 position statements of both the American Heart Association and the American Diabetes Association. This new way of understanding physical inactivity has also stimulated active-working initiatives by business and industry, government departments, and occupational health and safety bodies.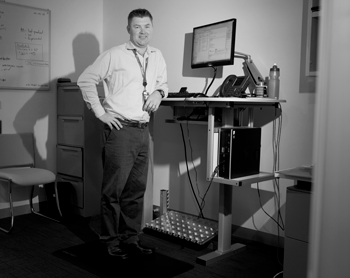 David Dunstan using a sit-stand desk.