13 July 2022
Institute news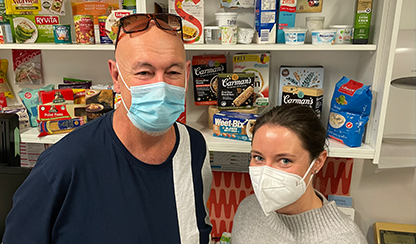 The impact of COVID-19 lockdowns, including poor access to healthcare professionals, made diabetes management more difficult for those living with type 2 diabetes during the pandemic.
Research into the effects of Covid lockdowns on patients living with type 2 diabetes found that lockdowns significantly increased their levels of fasting glucose, body mass index and glycated haemoglobin (the main biomarker used to assess long-term glycaemic control in individuals with diabetes).
This week is Diabetes Awareness Week, and Baker Heart and Diabetes Institute diabetes educators are urging those at risk of developing diabetes, and those living with the chronic condition, to "get back to basics" with their diabetes management to prevent its onset and to limit its complications.
During lockdown, access to GPs, diabetes educators and allied health practitioners was impaired, and the closure of gyms and limits to outdoor activity exacerbated how difficult it was to maintain a good diabetes management plan, Baker Institute Practising Dietitian Alison Bennett said.
"COVID-19 has taken its toll on everyone, but for those living with type 2 diabetes, in many cases, the toll has been heavy," Alison said. "Reviews and regular appointments may have been cancelled and not rescheduled during lockdowns and it was difficult to get in to see some practitioners at times. Getting outside and participating in exercise and activities that clients might have regularly engaged in couldn't happen either.
"We are encouraging everyone who is at greater risk of type 2 diabetes, and those who are living with this chronic condition, to get back to basics with their diabetes management."
Rick Williams, who lives with type 2 diabetes, relies on the support of his healthcare team to help keep him on track, and can understand why lockdowns have contributed to setbacks.
"The encouragement my team has given me has been extraordinary," Rick said. Throughout lockdowns my appointments were on the phone or video, so I was able to keep motivation, but that couldn't happen for everyone. Having a team to support you definitely gives you the drive to stick with your plan."
Returning to a routine of yearly reviews and having regular checks is important to getting back on track, Alison said.
"With type 2 diabetes, there is so much we can do to help limit or even prevent the complications of diabetes," she said. "Diabetes Awareness Week is a good time to make some calls and reschedule appointments, to contact a friend to organise a walk and a catch-up. It's as good a time as any to get back to basics, re-set and help reduce future risk."
A return to routine diabetes management should include:
Re-engaging with your diabetes healthcare team for at least an annual review

Getting back to diabetes complications screening — having your feet, eyes and teeth checked

Keeping moving — re-engaging in regular physical activity

Focusing on healthy eating — re-establishing routines, eating less junk food.