29 July 2022
Institute news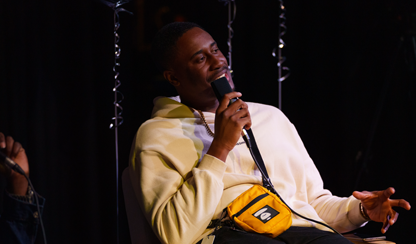 He's a podcaster and a community leader who is committed to developing the transferrable skills of young Africans in the community. And now, Daniel Olasoji has combined his community relations skills with his biomedical science training to take on the new role of Community Engagement Coordinator with us at the Baker Heart and Diabetes Institute.
While Daniel is usually the one usually asking the questions, today he sits down to go Fast Five with us to talk about his roles inside and outside of the Institute.
What did you do before you joined the Baker Institute?
I was working as a Patient Safety Associate for a biotechnology consulting company. We dealt with leading pharmaceutical and medical device companies to ensure their products were meeting consumer requirements and safety profiles. This work involved liaising between patients, carers, the Therapeutic Goods Administration (TGA), healthcare professionals/authorities and the companies themselves.
What is your role at the Baker Institute?
I am the Community Engagement Coordinator. I am involved in ensuring the already great work that we are doing here is impactful to the community and involves the community at various stages. In essence, my role is to make the consumer voice heard throughout our research and to help facilitate the two-way dialogue between the researchers and their communities of interest.
A typical workday involves meeting with researchers to see how to best interact with the community for particular research projects. It involves reading up on current best practice when it comes to engaging the community in scientific research. I am currently developing the policy which we will implement here at the Institute. I also typically reach out to our existing community members and contacts to maintain those relationships.
Why is it so important to connect with our community?
It really helps to set our work apart from other research institutes. Allowing a collective of community voices and thoughts to inspire and help direct what we do here makes the work a lot more meaningful. Connecting with the lived experiences and community means the purpose for all the work done here is never lost.
How do you engage with your own community outside of work?
I have a community group which I founded with some friends roughly five years ago. We work to develop the transferrable skills of young Africans in our community. We also have speaking engagements at local schools and community groups focusing on leadership development for students. I am also a youth leader at my local church. It's inspiring to be able to "do life" with young people around you.
Tell us something about you that not many people at work would know?
I have a podcast with my friends (just reached the three-year mark!) and I am insanely afraid of moths! I love to shoot videos, do freelance videography/editing and I love watching anime.