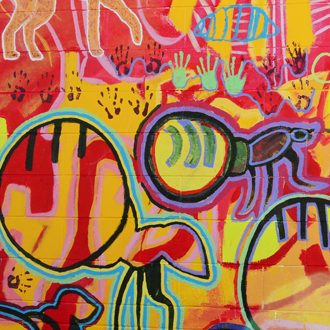 Alarmingly, Central Australia has the world's highest rate of infection of the HTLV-1 virus
The HTLV-1 virus
HTLV-1 is the forgotten virus that likely, you have never heard of until now.
The Human T-lympotropic virus type 1 (HTLV-1) is spread through contaminated blood, unprotected sex and breast milk.
Across the world it is estimated that nearly 1 in 20 people who contract HTLV-1 will develop a form of leukaemia, which can be fatal within 12 months.
Not everyone who is infected with HTLV-1 will go on to develop disease. But for those who do it can be devastating. In addition to leukaemia, other potential complications are lung disease and inflammation of the spinal cord leading to paralysis.
Alarmingly, Central Australia has the world's highest rate of infection of the HTLV-1 virus. In our recent studies in five remote Aboriginal communities in Central Australia we found that more than 45% of adults have the virus.
We know that children too, like Holly (not her real name), are being infected. What we do not yet fully understand is how many children have been infected or what the risk factors for infection are.
Holly's story
At just two years of age, Holly was the first child in Australia to be diagnosed with a complication of the HTLV-1 virus. She developed sepsis — a potentially fatal condition.
When Holly went to the hospital in the city where she lives, doctors did not know enough about the HTLV-1 virus to treat her. They contacted the Baker Institute's Dr Lloyd Einsiedel.
Dr Einsiedel is an Infectious Disease and General Medicine physician at Alice Springs Hospital, providing an extraordinary level of commitment to some of Australia's most disadvantaged communities.
Dr Einsiedel explains: "When I first visited Holly in hospital, I was immediately reminded just how alarming her reality is. At just two years of age, Holly presented with damage to multiple organs and her immune system. She was a very sick little girl."
Holly is a beautiful child who was born perfectly healthy.
Her story reminds us that action to stop the HTLV-1 virus is so important.
Support our life saving research
The facts
Central Australia has the highest reported prevalence of HTLV-1 infection worldwide.
As part of the Baker Institute's research, 45% of the adults we surveyed in five remote Aboriginal communities have this virus.
International research suggests 5% of people are at risk of developing leukaemia when the virus is transferred early in life.
Currently, there is no cure, no treatment, no vaccine to prevent it, and no coordinated public health response to HTLV-1 in Australia.
With your vital help, we can better understand the HTLV-1 virus and protect lives.
The solution
Testing and treatment need to be a priority
Dr Einsiedel is leading the fight to eradicate HTLV-1 here in Australia.
Thanks to wonderful supporters like you, the Baker Institute and its research partners have commenced a crucial pilot study, Protecting Children from Infection. This is an important first step to understanding the links between mother, child and HTLV-1 infection.
In other parts of the world, research suggests there is a 30% chance of a mother passing on the infection to her baby when breastfeeding continues for longer than 12 months.
The pilot study in Central Australia is recruiting 100 mothers and their babies; mothers take a blood test for HTLV-1 virus, and both mother and baby are being monitored for 18 months.
Importantly, the pilot study will produce evidence to safely improve infant nutrition and reduce HTLV-1 transmission.
Even more importantly, the completion of the pilot study will help to secure major funding to conduct a full study looking at risk factors for the HTLV-1 infection.
This will ultimately inform public health guidelines which are culturally safe and practical for Aboriginal people living in remote communities.
Dr Einsiedel and his team are also working with people in affected communities to develop a story around HTLV-1 that is communicated in primary language, sharing information about how the infection is spread and what the risks are.
Empowering communities to share accurate information about HTLV-1, in ways which are culturally safe for them, is key to ensuring that people act upon the information they hear.
How your generous gift will help
Research is critical to preventing the spread of infection and improving treatment options for those already affected. If more was known about the HTLV-1 virus; about why some people develop complications and others do not, we could find better methods for prevention.
Help Dr Eiesiedel and his dedicated team to better understand the HTLV-1 virus and protect the lives of those most vulnerable, children like Holly.
Your incredible support helps to protect life, create change and promote better health outcomes for all Australians. Thank you.