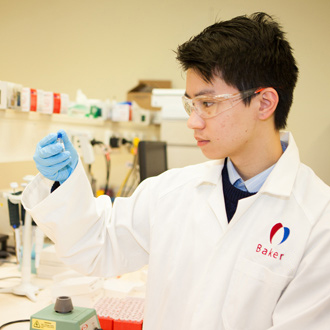 Hands on experience in the lab opens up new career possibilities
For Kevin Culham, a fourth year medical student from Indonesia, part of his course requirements dictated that he study abroad for his honours year. Kevin was set on becoming a doctor and pursuing his interest in cardiology so undertaking a scientific project at the Baker Institute whilst completing his studies at Monash University was initially a means to an end.
Given his interest area, and a recommendation about the Baker Institute from a friend, Kevin found his way to Professor Peter Meikle's laboratory. One of the primary goals of the Metabolomics laboratory is to understand the difference between stable and unstable coronary disease, which includes the examination of changes in lipid metabolism associated with coronary artery disease.
When Kevin started his honours project in early 2016, it was the first time that he had set foot in a scientific laboratory and he loved it. So much so that it has opened Kevin's eyes to the possibility of a career as a clinician scientist.
"I never thought of being a clinician scientist because there are no laboratories big enough in Indonesia like the ones that exist here," Kevin says.
"The Baker Institute also has a lot of good role models in terms of clinician scientists who work both in a clinical and laboratory environment, so I'm really enjoying learning all that I can."
Kevin says he will be eagerly awaiting the results of his clinical trial to see if it might lead to publication of a paper, and possibly a PhD down the track.
"This experience will help to shape what I want to do in the future whether it is medicine, science or a combination of both."