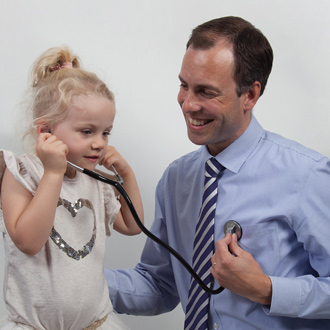 Sahara never got to meet her father Julian, who died of heart disease at just 34 and barely three months before she was born
Heart disease kills one Australian every 12 minutes.
When heart disease claims the life of a member of our community, it's a cruel reminder for us to do more to save the lives of others.
When Lyn Hart lost her son Julian to a heart condition with no hope of a cure, she vowed that all the love and care she had given to her son would not go to waste.
"I quickly realised that if you do not support research to find new treatments, then by the time someone reaches the clinic it is already too late. Without the research the Baker Heart and Diabetes Institute conducts, you cannot take the next step." — Lyn Hart
Julian died of cardiomyopathy due to amyloidosis at just 34, barely three months before the love of his life, Bec, gave birth to daughter Sahara (pictured with the Baker Institute's Dr James Hare).
Surely our children are meant to outlive us and our grandchildren are meant to know their parents?
Julian was a musician, playing drums in a band. Like so many of us, he would have been familiar with The Beatles' famous song 'All you need is love', and would have agreed with the simple point John Lennon made: to make a change in this world, all you need is love.
Will you send a gift of love and hope today, to bring the Baker Institute a step closer to finding the cures to the killer diseases that rob our families of our precious ones?
---
New cures need new discoveries. These discoveries require new, sophisticated technology and the brightest, highly trained people.
Your financial support allows us to continue to make live saving discoveries and retain our talented researchers.
Please consider making a donation today.
How your generous gift will help
$45
helps fund vital research to prevent, detect and treat heart disease.

$75
helps provide FREE heart screening for people at risk within our communities.

$120
helps fund equipment needed to analyse samples faster, with greater accuracy, and turn research into effective, clinical tests.

$250
helps equip scientists and laboratories with essential equipment.