17 December 2019
Institute news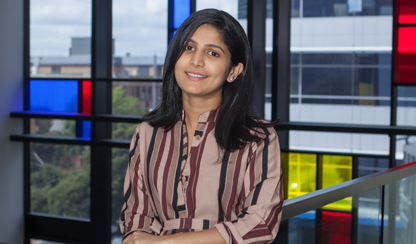 Meet Dr Satvika Burugupalli, a researcher at the Baker Institute working on a project to identify novel lipid (fatty like substances in the blood) and genetic biomarkers of obesity and cardiovascular disease in early childhood. This important work could pave the way for early interventions.
How big a role did family values play in your choice of career?
Both of my parents are doctors back in India and are heavily involved in community services. Growing up, my sister and I were always involved in participating in free medical camps to the under privileged. During these camps, I came across people with diseases that had no cure. As a child this intrigued me to work towards research, and instilled a sense of giving back to the community in the best possible way you can.
After completing your PhD at the University of Melbourne 18 months ago you joined the Baker Institute. How did you make the leap from organic chemist to the Baker Institute?
In my PhD I was involved in synthesising bacterial lipids and understanding their immunological function in tuberculosis. During this time, I got interested in lipid metabolism and pathways, which I am now working on at the Baker Institute.
You are about to go on maternity leave to have your first child. Do you think there is sufficient support at the Institute and in the sector to pursue a scientific career while juggling a family?
There are many Institute initiatives to support women in science such as parenting workshops and women in science fellowships that help to continue your work while on maternity leave. In addition, being surrounded by amazing women in senior and leadership positions inspires and gives me the confidence to pursue a career in science.
Your husband has his own business working as a migration lawyer. Your job as a research scientist seems worlds apart. Tell us more.
Yes, they are but we enjoy learning from each other. I have started to enjoy developing marketing strategies and business expansion proposals for his business. I learnt that research principles are widely applicable in many things in your day-to-day life.
Tell us about the research projects that you are currently working on?
Our lab works on a wide array of projects, ranging from identification of lipid biomarkers in cardiovascular disease, diabetes and Alzheimer's disease to identification of lipid pathways. Currently I work on a birth cohort called the Barwon Infant Study, which has about 1000 mothers and children pairs recruited from the Geelong hospital. The project aims to identify biomarkers that predict future obesity and cardiovascular risk in children. We have performed lipidomics on repeated measures at various time-points from birth to 4 years. It is a valuable resource that is helping us to understand antenatal factors that might also effect a child's health.
Satvika's research is the focus of our Summer fundraising appeal.
Stay on top of the latest findings with our newsletter
Subscribe