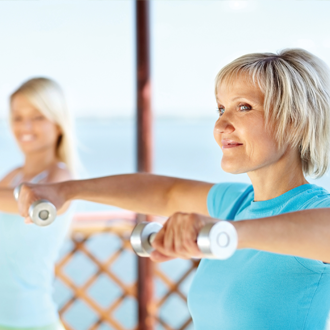 We are testing whether exercise training during chemotherapy is helpful in protecting heart function and maintaining exercise capacity.
We are assessing whether undertaking an exercise program in combination with standard breast cancer treatment can help maintain heart health and physical function in breast cancer patients.
Who can participate?
We are currently in need of trial controls, so looking for women who DO NOT have breast cancer.
Females aged 40–75 years.
No personal or family history of breast cancer.
Inactive to recreationally active (≤300 minutes a week of moderate intensity physical activity or ≤150 minutes a week of high intensity physical activity)
You will NOT be eligible to participate if you:
Are a current smoker.
Have a heart condition or high blood pressure.
Have anything that would prevent an MRI scan (such as a non-MRI compatible breast tissue expander, pacemaker or implanted metallic foreign body/device).
Are unable to complete the study questionnaires in English.
Enquire about participating in this trial
What is involved?
Participants will be required to attend the Baker Heart and Diabetes Institute for 2 testing visits on 3 occasions over a 12-month period. Each session will take approximately 2–3.5 hours. Participants will be reimbursed for their time at both visits.
Testing will include:
echocardiography (heart ultrasound)
DXA scan (quantifies body fat, lean muscle and bone density)
a Cardiopulmonary Exercise Test (CPET)
resting and exercise cardiac MRI
a blood test
muscular strength and physical function tests
questionnaires
cognitive function tests
physical activity monitoring.
If you are interested in participating or would like further information, please contact:
Imogen Wallace
T: +61 3 8532 1271
E: imogen.wallace@baker.edu.au