Dr Kate Weeks
PhD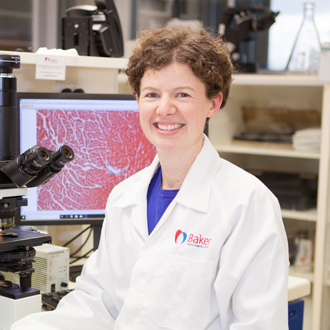 Dr Weeks was awarded her PhD in Biochemistry and Molecular Biology from the University of Melbourne in 2012. She was subsequently awarded an Overseas Postdoctoral Fellowship from the National Heart Foundation of Australia to undertake postdoctoral training at King's College London under the mentorship of Prof Metin Avkiran. Dr Weeks returned to the Baker Institute in early 2016 to continue her research into the molecular mechanisms underlying cardiac remodelling in patients with cardiovascular disease.
Her doctoral research, undertaken in Associate Professor Julie McMullen's laboratory, sought to understand the molecular basis for the cardioprotective effects of exercise. Her studies revealed that regular exercise training protects mice from developing heart failure in response to an intervention that mimics cardiovascular disease in humans. She found that the cardioprotective effects of exercise in this setting were due to the activity of a protein known as 'phosphoinositide 3-kinase', or PI3K for short. She then developed a gene therapy tool to increase the amount of PI3K in hearts of mice with preexisting cardiac dysfunction. PI3K gene therapy restored cardiac function, providing proof-of-concept that targeting the PI3K signalling pathway may be a viable therapeutic strategy for improving function of the failing heart in patients. The key findings from her PhD were published in Circulation: Heart Failure and are now being translated into a preclinical model of heart failure.
Dr Weeks' current research focuses on the beta-adrenergic signalling pathway, a key signalling pathway that is dysregulated in patients with heart failure. Understanding the mechanisms by which altered beta-adrenergic signalling leads to cardiac remodelling and dysfunction is essential for the development of effective therapies. Dr Weeks utilises in vivo and in vitro approaches spanning physiology, pharmacology, molecular biology and microscopic imaging to investigate how the beta-adrenergic signalling pathway regulates heart structure and function in the healthy and failing heart, with the aim of identifying new therapeutic targets for the treatment of heart failure.