Dr Lisa M Domke
BSc | MSc | PhD, German Cancer Research Center and University of Heidelberg, Germany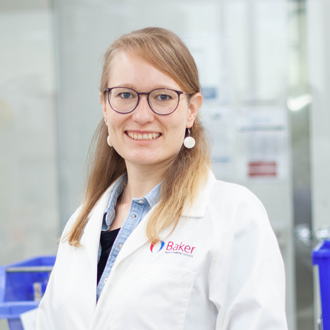 Dr Domke is a Research Officer in the Atherothrombosis and Vascular Biology laboratory. She is interested in the translation of preclinical into clinical research to improve the lives of patients with cardiovascular disease. Her research focuses on inflammation of the heart and blood vessels in cardiovascular disease for the development of new anti-inflammatory targets and therapies that prevent heart attacks and strokes. For this, Dr Domke utilises advanced preclinical models generated in the laboratory of Prof Karlheinz Peter, human vascular tissues and state-of-the-art approaches including single-cell RNA sequencing and confocal immunofluorescent microscopy.
It is important facing the challenges in managing cardiovascular health including interdisciplinary approaches to deliver the best possible care for patients. Dr Domke completed her PhD in Germany at the German Cancer Research Center (DKFZ) focusing on the molecular and ultrastructural characteristics of adhering junctions and cytoskeletons of diverse organs, such as the heart. In her previous role as a scientific project manager, she was involved in establishing a COVID-19 Autopsy and Biosample Registry in Germany and was responsible for setting up a network between different Pathology Departments for COVID-19 research to support the understanding of, e.g., myocardial inflammation and finding possible new treatments.
Dr Domke recently joined the Atherothombosis and Vascular Biology laboratory at the Baker Institute and is excited to work on research that benefits patients living with diabetes and cardiovascular disease. She is a member of the Baker Institute Early Career Scientists Committee. In addition to her position at the Baker Institute, Dr Domke holds an honorary appointment at the Baker Department of Cardiometabolic Health at the University of Melbourne.