Ms Monique Fatmous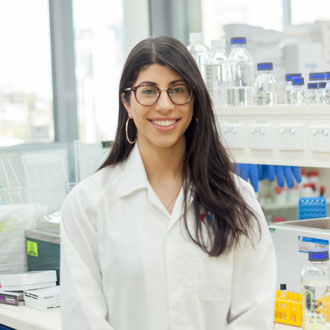 Monique graduated from a Bachelor of Biomedical Science at Latrobe University in 2018. During her undergraduate degree, Monique majored in biochemistry and took part in an Advanced Biochemistry and Molecular Biology Internship at the La Trobe Institute of Molecular Science (LIMS), where she determined functional and structural characteristics of a bacterial protein critical for bacterial virulence. She utilised a range of techniques including protein purification, protein crystallisation and bioanalytical assays.
In 2019, Monique joined the Molecular Proteomics laboratory to conduct her Honours project which aimed to identify molecular drivers of human embryo implantation and fertility from endometrial secretions. Monique utilised an in vitro model to simulate the menstrual cycle in endometrial cells and obtain a secretome (extracellular vesicles) representative of menstrual cycle phases. She employed proteomic profiling of endometrium-derived extracellular vesicles to provide insights into the molecular mechanisms of human embryo implantation.
At the end of 2019, Monique was awarded First Class Honours and transferred directly into the second year of a Master of Science by Research in 2020 through La Trobe University. Monique is a recipient of the Australian Research Training Program Scholarship. She is currently expanding her project to evaluate the functional role of endometrium-derived extracellular vesicles in implantation, utilising a novel human embryo "mimetic" in an implantation model. Monique's research will contribute to coordinating strategies for personalised IVF to improve pregnancy outcomes.