Dr Waled Shihata
BSc(Hons) | PhD, Monash University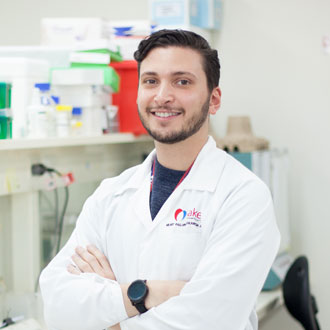 Dr Waled Shihata is a Research Officer in the Heart Failure Research Group and holds an adjunct position at Monash University. He graduated with a Bachelor of Science (Honours) with first class honours from Monash University in 2013, specialising in Physiology. Dr Shihata then received the prestigious Australian Research Training Program (RTP) Scholarship (formerly known as the Australian Postgraduate Award Scholarship) and the Baker Bright Sparks Top-up Scholarship to investigate the effects of high intraluminal pressure in the context of hypertensive heart disease and the intracellular mechanisms involved in the pathological process under the supervision of Professor Jaye Chin-Dusting and Associate Professor Andrew Murphy.
Using novel ex vivo as well as in vivo and in vitro techniques, Dr Shihata highlighted the critical role of caveolae and caveolin-1 proteins in the onset and prevention of hypertension-induced cardiovascular disease, particularly in the heart, vasculature and kidney. Whilst completing his doctoral studies, Dr Shihata undertook a Teaching Associate position at Monash University's Department of Immunology and Department of Pharmacology.
In 2018, Dr Shihata was awarded his PhD from Monash University, the Department of Medicine and was recruited by Professor David Kaye to investigate the links between ageing, heart failure and neurodegeneration, and identify potential therapeutic targets that can be translated to the clinical setting.