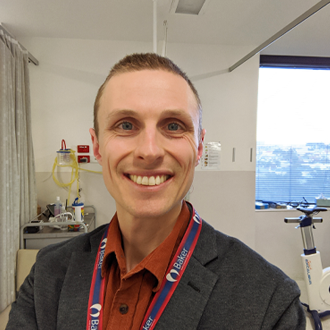 Passion for exercise helps Steve transform the health of others
For PhD student Steve Foulkes, the ability to experience how his research work is positively influencing the lives of others is one of the biggest drawcards to a career in clinical research.
Steve is finishing a PhD with the Baker Institute's Sports Cardiology laboratory and will soon transition into a postdoctoral position to continue his project evaluating the positive impact of exercise on women being treated for breast cancer.
"I've been looking at how exercise training can prevent the short-term effects of chemotherapy on heart dysfunction. Now I want to see how it can help these women with their long-term health outcomes and quality of life," he says.
"It's great because I can already see the impact of what we're doing on their experience. Just recently, I had a participant say to me that what we are doing was one of the shining lights in what has been a fairly crappy 12 months for her.
"Working with people you get to understand exactly where that clinical need is, your research is patient led, and your work goes back into improving practice. I've always loved exercise, with cycling my most recent passion. I even went through the classic teenage phase of wanting to be a sport star, so being able to use exercise as a way of helping improve people's health is very rewarding."
This final year of Steve's PhD clocks up his ninth associated with Deakin University, where he studied his undergraduate degree and then Masters in clinical exercise physiology. He now supervises students in this same course learning how to use exercise as a tool to treat health issues.
It was during his Masters that Steve had his first exposure to research work in a project that used an exercise program to help men with prostate cancer build back bone and muscle strength they'd lost during treatment.
That work connected him with Associate Professor Erin Howden and Associate Professor Andre la Gerche, leaders in the Baker Institute's Sports Cardiology laboratory.
"They are so dynamic and I knew I wanted to be part of their team. Everyone is interested in exercise and heart function, just like me, and the great thing is we get to do research at the same time."
Steve appreciates the breadth of research undertaken at the Baker Institute, from benchtop basic science to hands-on clinical studies, and he enjoys the same variety in the microcosm of his lab.
"What I like about our lab is you get to work with people on the full spectrum of heart function and exercise capacity — people who are struggling due to heart problems, right through to serious athletes. You learn a lot from your own project, but also in contributing to other people's projects.
"I really enjoy the opportunity to form close collaborative relationships with my colleagues. There are some awesome scientists at the Baker Institute who can open doors for you and connect you to some amazing people working at the top of their field.
"The nature of being embedded in a research institute means you feel really integrated within your lab, and that your work is clearly connected to the organisation's wider research objectives."
Browse our student research opportunities