03 June 2021
Institute news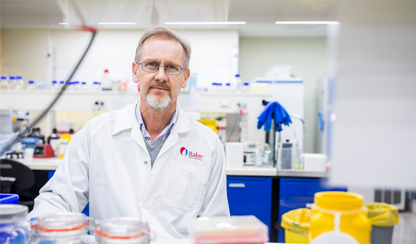 A major grant to advance the use of metabolic and genetic scoring to help in the early identification and treatment of heart disease has been awarded to Baker Institute scientists.
A Heart Foundation Strategic Grant of nearly $1 million will allow development of a personalised metabolic risk score to prevent cardiovascular disease, and software to effectively deliver risk information to patients and doctors.
One Australian suffers a heart attack every 10 minutes, many without warning.
Currently, identifying a patient most at risk of a heart attack relies on using established risk factors such as high blood pressure, diabetes, smoking, and high cholesterol. However, around one quarter of heart attack patients, have none of the traditional risk factors, indicating the need for better solutions.
Head of the Metabolomics laboratory, Professor Peter Meikle will lead this revolutionary new approach that aims to inform prevention strategies prior to symptoms appearing, using personalised metabolic and polygenic risk scores.
Over several years, the Metabolomics laboratory has performed some of the largest clinical and population lipidomic studies globally. The studies have enabled the characterisation of metabolic pathways that are able to better predict disease risk and therapeutic efficacy.
Metabolic risk incorporates biochemical markers of early disease that capture the effects of lifestyle and environmental risk factors including diet, exercise, pollutants and toxins. When combined with genetic risk scores they offer an individual a more precise approach to preventing cardiovascular disease, possibly years in advance. As this may be done years in advance of a potential clinical presentation, there is time for preventive therapy to change the trajectory of disease.
The grant will also contribute to the development of software to communicate an individual's risk of cardiometabolic disease in the clinic, and a risk reduction calculator for clinicians to accurately assess what treatments will have greatest benefit in terms of risk reduction. This approach will encourage patients to adhere to their medication and modify their health behaviour to reduce their overall risk.
"Heart disease has been one of Australia's biggest killers for decades — that has not changed. We need to pioneer prevention strategies, not just treatment when much of the damage is done," says Institute Director and Cardiologist, Professor Tom Marwick. "Heart disease is far from solved and we thank the Heart Foundation for this much-needed investment."
Stay on top of the latest findings with our newsletter
Subscribe