Shane is a cardiology fellow at the Alfred Hospital and researcher at the Baker Heart and Diabetes Institute. He is currently completing a PhD in heart failure with preserved ejection fraction, with a strong interest in cardiovascular physiology and haemodynamics, while continuing teaching through Monash University.
Why did you choose to study at the Baker Institute?
The close ties between the Baker Institute and the Alfred Hospital afford a plethora of opportunities to further translational research; not only can research go from bench to bedside, but clinical experiences can be fed back to more appropriately target research.
What do you see as the benefits of doing an Honours/PhD at the Institute?
The Baker Institute allows students to be supervised and supported by giants of research, provides incredible equipment and resources, and maintains close links with other research organisations both locally and internationally to foster future collaborations.
What do you hope to achieve as a researcher?
Combining basic science and clinical medicine is a passion of mine, hopefully allowing us to discover novel phenotypes for existing diseases, and then developing targeted therapies to ameliorate the symptomatic burden of these conditions that have such a significant impact on society.
Browse our current student projects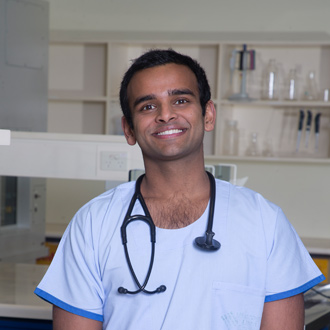 Baker Institute supervisors are giants of research