14 September 2021
Media release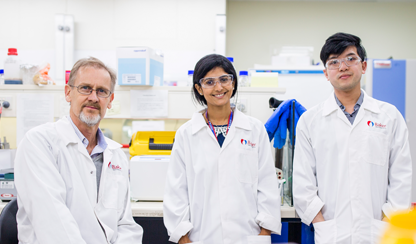 More than $7 million in funding to develop precision medicine targeting Australia's most common and debilitating diseases — heart disease, diabetes and Alzheimer's disease — has been awarded to the Baker Heart and Diabetes Institute.
The Federal Health Minister Greg Hunt announced the National Health and Medical Research Council (NHMRC) Investigator grants today.
Head of the Baker Institute's Metabolomics laboratory, Professor Peter Meikle will receive $2.4 million to develop precision medicine solutions to better identify those at risk of cardiometabolic diseases and effectively intervene before serious illness or death occurs.
"Our metabolism plays a central role in the development type 2 diabetes, cardiovascular disease, age-related dementia and some cancers," Professor Meikle said.
"My team uses new technology — genomics and metabolomics — to understand how our genes and environment combine to influence our metabolism and our health."
Over more than a decade, the lab has developed a 'state of the art' high-throughput lipidomics platform, studying samples from large groups to define lipidomic profiles that can indicate metabolic health, predict disease risk and identify metabolic pathways associated with disease.
"Current risk prediction tools for metabolic diseases are very blunt, with the vast majority of Australia's population falling into an 'intermediate' category, a group so large that preventative treatments are not practical or cost-efficient," Professor Meikle said.
"But now our team is in a position to translate the knowledge we've gained over 14 years of scientific research into real-world applications, allowing doctors to characterise patients much more precisely.
"This new funding will help us deliver simple blood tests, so at the same time as a doctor measures a patient's cholesterol they can also determine their specific metabolic and genetic risk profile. In turn, this will aid in the development of new treatments to maintain health or treat these common metabolic diseases."
Head of the Baker Institute's Heart Failure Research laboratory Professor David Kaye will receive $2.7 million to improve care for people with heart failure, where in many cases there are very few effective treatments.
Heart failure is one of the most common and disabling forms of chronic cardiovascular disease, patients have a poor quality of life and require frequent hospitalisation, and its prevalence is rising rapidly, in line with Australia's ageing population. Professor Kaye's work will look at a particular type of heart failure known as HFpEF, a complex disease process which includes increased heart muscle stiffness, and makes up half of all heart failure cases.
Baker Institute Director, and head of the Cardiac Imaging laboratory, Professor Tom Marwick, will receive $1.9 million to better prevent cardiovascular disease in cancer patients.
Cancer survivors are at increased risk of cardiovascular disease, both because of their cancer therapy and because of shared risk factors. Professor Marwick's team will develop a cardiovascular diseases screening program — using cardiac imaging techniques — and subsequent risk-based cardiovascular disease prevention program, to enable cost-effective help to be delivered where it's needed most.
Professor Marwick said cardiovascular disease remained the biggest killer of Australians and the most costly disease in the country, while diabetes and Alzheimer's disease are among the fastest growing chronic diseases.
"We warmly welcome this funding from the NHMRC today to continue our innovative research, it's critical we address the escalating epidemic of cardiometabolic disease in Australia," he said.
---
For further information or to organise interviews please contact:
Tracey Ellis
T: 03 8532 1514
M: 0433 781 972
E: tracey.ellis@baker.edu.au