The Behavioural Epidemiology Laboratory is concerned with sedentary behaviour (put simply, too much sitting) in the prevention and management of major chronic diseases, specifically type 2 diabetes, heart disease and cancer.
The goal of our program is to contribute insights to underpin new public health, workplace and clinical programs and policies. We aim to understand and influence the environmental, social and organisational factors that can increase physical activity and reduce sitting time.
We work closely with the Physical Activity Laboratory to build comprehensive scientific links between epidemiological evidence; clinical/experimental and mechanistic investigations; intervention trials on changing sitting time in real-world settings; and, large-scale population studies of environment/behaviour relationships in key target settings such as workplaces, transportation and schools.
Why focus on sitting time?
Our research will provide much-needed evidence to inform new approaches to reducing Australia's disease burden from excessive sedentary time and physical inactivity. The program of studies on sedentary behaviour, physical activity and health conducted by the Behavioural Epidemiology Laboratory includes:
cross-sectional and prospective epidemiologic observational studies
measurement development studies using state-of-the-art accelerometer and inclinometer devices
studies on the multiple levels of influence on physical activity and sedentary behaviour, focused on understanding environmental determinants
field-based intervention trials on the feasibility and outcomes of changing physical activity and sedentary behaviour
the ongoing refinement of conceptual models to integrate the evidence and explain multiple levels of influence on physical activity and sedentary behaviour
studies to identify new research-translation implications
studies to inform clinical practice and public health policy.
Projects
Centre of Research Excellence
Sitting time and chronic disease prevention: measurement, mechanisms and intervention
Sedentary time — too much sitting, as distinct from too little exercise — is now being recognised as a population-wide, ubiquitous health risk, manifested in children, adults and older people.
This NHMRC Centre of Research Excellence (CRE) brings together, in collaboration with the University of Queensland and Deakin University, a national and international network of research teams to build new interdisciplinary capacities and to integrate and advance knowledge on sitting time and chronic disease prevention across three key themes:
Measurement.
Mechanisms.
Interventions.
Cross-talk between the three CRE research teams and themes provides the basis for multidisciplinary training, research innovation, and knowledge generation and translation (as illustrated below).
The research is conducted across key life stages (children, youth, adults, older adults) and population-health settings.
This capacity building, along with the subsequent unique body of evidence to be developed, and our research translation initiatives will add novel elements to guidelines, practice, and policy for chronic disease prevention.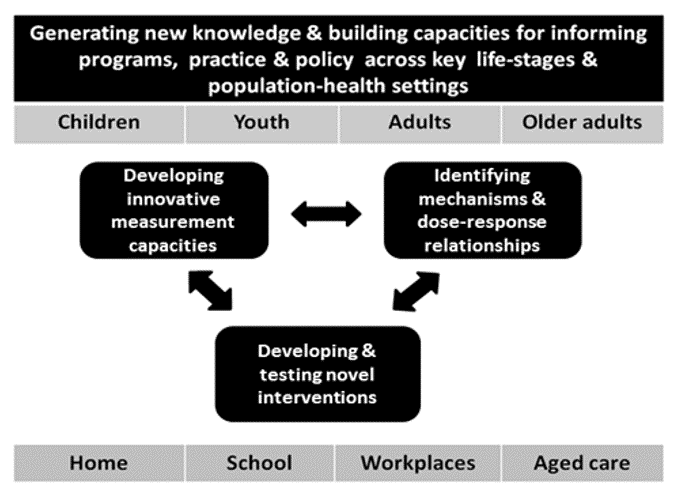 Visit the CRE website for more information...
Staff
Dr Genevieve Healy (Postdoctoral Fellow)
Dr Takemi Sugiyama (Postdoctoral Fellow)
Dr Paddy Dempsey (Collaborator)
Nyssa Hadgraft (PhD Student)
Monika Loskot (PhD Student)
Ruth Grigg (Program Manager)

Dr Mohammad Javad Koohsari (Honorary Baker Fellow)